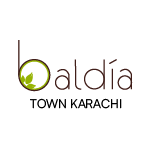 Baldia Town Karachi
Baldia Town Karachi is a housing project by the Government that has a premium location next to M-10 Hub River Road to enable you to buy your plot or house at an affordable payment schedule. This is a master-planned town to offer world-class living standards to people.
Baldia Town Karachi Introduction
---
Baldia Town Karachi is a fabulous residential project by the local government to facilitate the people of the highly populated city of Pakistan. The purpose of initiating this housing society was to offer residential plots at a reasonable price to the middle-class people in Karachi, which is known as a hub for job opportunities and business.
Baldia Town in Karachi was launched by the government in 2001 and became part of Karachi West in 2015. This government-based residential project includes eight union councils to provide exceptional services to the customers. The availability of commercial and residential plots in this town brings several opportunities for investment for the customers.
Baldia Town Karachi Location
---
Location of Baldia Town Karachi is next to M-10 Hub River Road to enable the residents to access the Kemari District and Orangi Town easily. This housing society is located near Ittihad Town Road to ensure flexible accessibility for the residents. Therefore, the value of this residential project has been increased because of its ideal location.
Baldia Town location is near Baldia Stadium Road to allow the residents to access the nearby landmarks within a few minutes. This housing scheme is situated near Orangi Town and Naval Colony to ensure fast access for the residents. Lyari Expressway also makes sure the easiest access to Pakistan Marine Academy and Millennium Mall. You can also easily reach this housing scheme from Shahra-e-Gaddafi Road.
Nearby Places
Afridi Colony
Baldia Colony
Dhoraji Colony
Delhi Colony
Ittihad Town
Kokan Colony
Kumhar Colony
Muslim Mujahid Colony
Naval Colony
Muhajir Colony
Orangi Town
Access Points
Naval Colony Road is 1 minute away
Orangi Town Road is 2 minutes away
Baldia Stadium Road is 7 minutes away
Lyari Expressway is 9 minutes away
Shahra-e-Gaddafi Road is 11 minutes away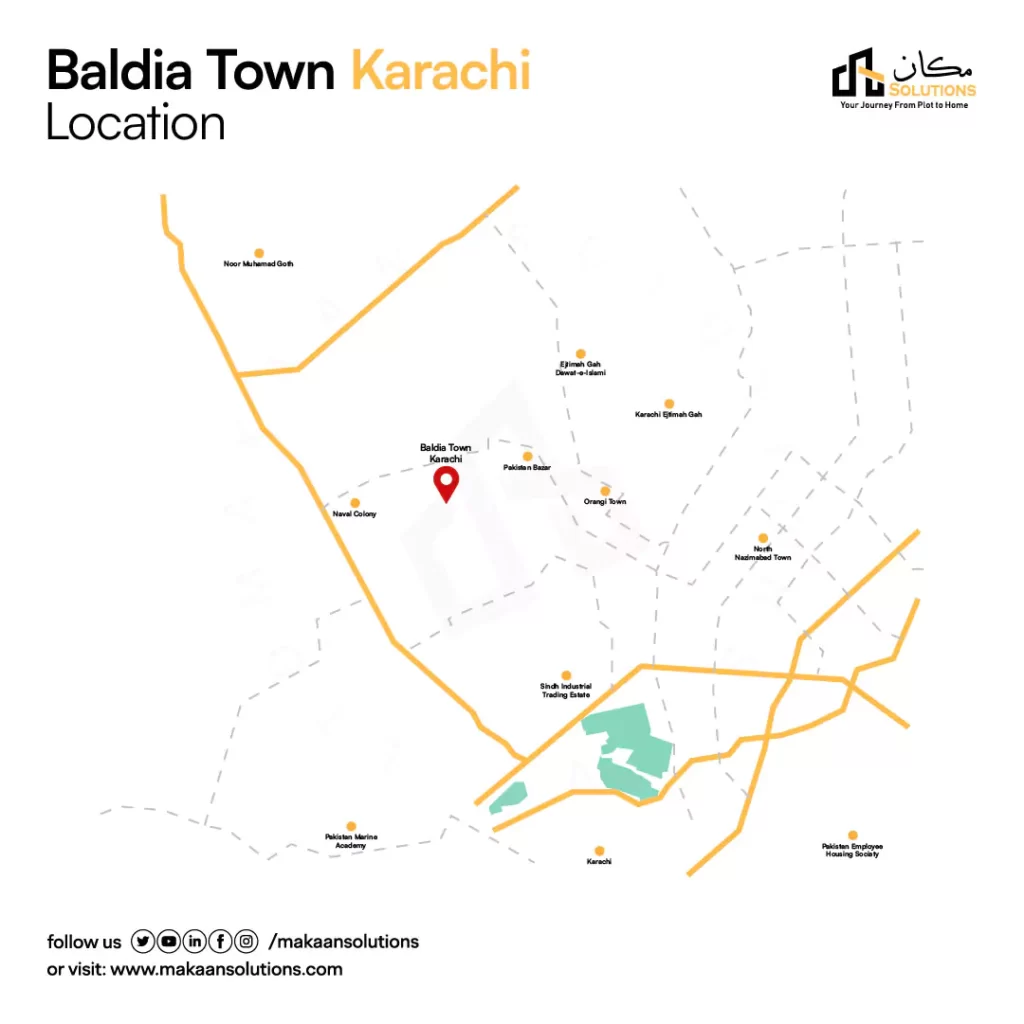 Baldia Town Karachi Payment Plan
---
Payment plan of Baldia Town Karachi was announced by the management with a vision of considering the affordability for the customers. The payment schedule allowed the local and overseas Pakistanis to purchase their properties within their budget. Therefore, most people had already reserved their property in this society.
There are plots for sale in Baldia Town Karachi at affordable prices that allow potential clients to reserve their plots. The management offered the different plot categories with distinctive prices.
80 square yards plot is for sale at a price of 5,000,000
120 square yards plot for sale at a price of 7,000,000
200 square yards plot for sale at a price of 9,800,000
240 square yards plot for sale at a price of 13,000,000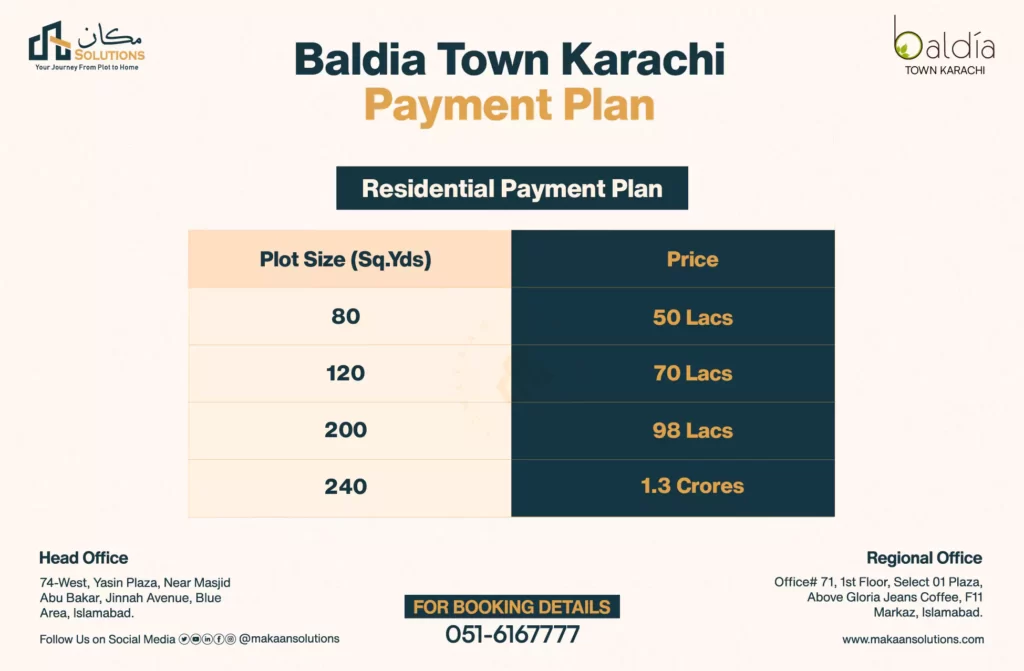 How to Book a Plot in Baldia Town Karachi?
---
Baldia Town booking procedure allows the customers to own a property in this modern residential project through easy steps. The initiative of the smooth booking process was taken by the management to facilitate the customers with the easiest reservation of properties in this society.
Fill out the application form
Affix the essential documents
Make the down payment for the plot
Affix the receipt of payment
Submit the application form
You can contact Makaan Solutions to book your plot because our team helps clients with the reservation of property without involving them in the complicated procedure of booking.
Required Documents
2 copies of the customer's CNIC
2 passport-size pictures of the customer
2 copies of Next to Kin's CNIC
NICOP of the overseas customer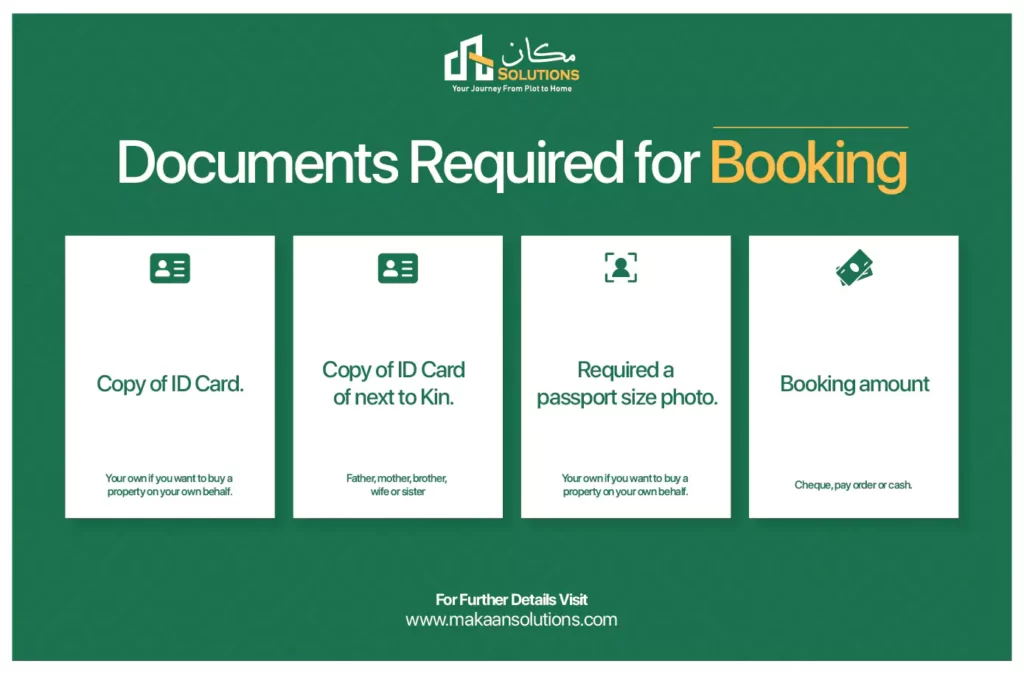 Benefits of Investment in Baldia Town Karachi
---
The developers offer splendid perks to people who want to own the most valuable properties in this residential project. These advantages are beneficial for investors who aim for the highest profitability. Therefore, you can also reserve your house or plot to get the maximum gains.
Financial Freedom
Everyone in Pakistan wants to have financial freedom by purchasing properties in the famous town of Karachi. You can buy your property in this housing project to attain financial independence by making an investment. Therefore, you feel comfortable and financially independent in the high inflation era.
Passive Income
In Pakistan, every person is struggling to find a source of passive income. There are limited options for passive earning in Pakistan because of the limited job opportunities. The reservation of properties in this housing scheme ensures passive income for the customers. You can earn money as a passive source by investing in this residential project.
High ROI
You can make your investment in this housing society to get the highest return on your invested money. You can buy your property at a reasonable price to get the maximum ROI with the passage of time. The ROI also ensures financial security for the investors who have purchased their properties in this society.
Manageable Asset
A property in this housing scheme has become a manageable asset in the real estate industry. You can reserve a real estate property in this society because you don't need to make a lot of effort to manage the valuable asset.
Baldia Town Karachi Master Plan
---
Master plan of Baldia Town Karachi is done by experienced designers who always focus on designing the architecture for the housing societies. Therefore, the designers used the latest standards of urban development to develop this housing scheme.
Layout plan of Baldia Town shows that eight union councils are part of this residential project. This society is planned in an excellent way to ensure the best facilities for the residents within this town. The developers have considered the infrastructure to develop this residential project.
Union Councils
Gulshan-e-Ghazi
Islam Nagar
Ittihad Town
Muhajir Camp
Muslim Mujahid Colony
Nai Abadi
Rasheedabad
Saeedabad
Residential Plots
80 Square Yardds
120 Square Yards
200 Square Yards
240 Square Yards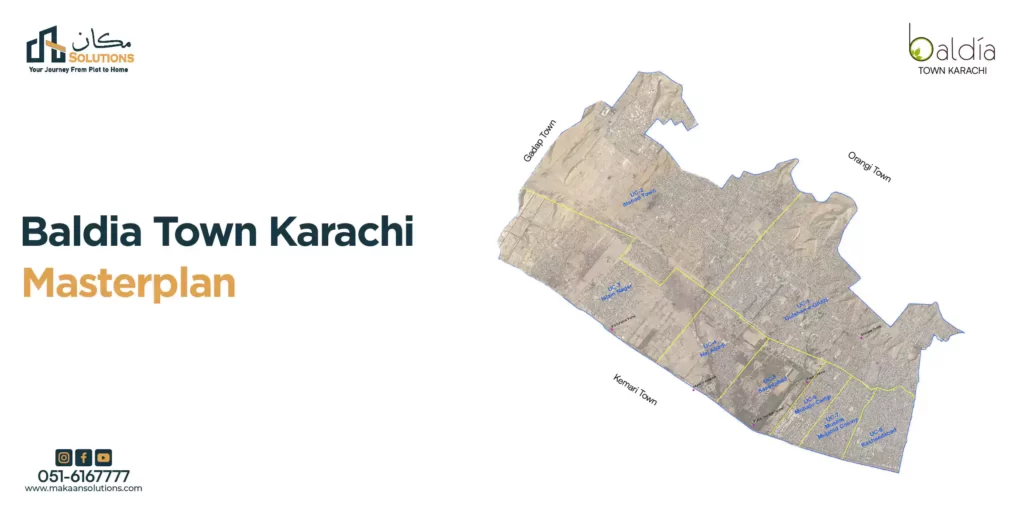 Baldia Town Karachi NOC Status
---
NOC status of Baldia Town Karachi shows that it is a legal housing society as the government initiated this residential project. This is a NOC-approved housing society that includes a vast area in Karachi. Moreover, this legal housing society is safe for the potential investment to offer the highest profitability.
Baldia Town Karachi Owner & Developers
---
Developers of Baldia Town Karachi are the local government of Karachi which initiated this project for the people of Karachi. This housing was started in 2001 with a mission of including the maximum residential plots for the providence of the best residence to the people who are looking to own their houses in Karachi.
Owner of Baldia Town Karachi is the government to ensure the exceptional residential experience for potential clients. Therefore, this society has become a lucrative option for investment and residency because of its attractive location and reliable ownership. The involvement of the government ensures satisfaction for the customers.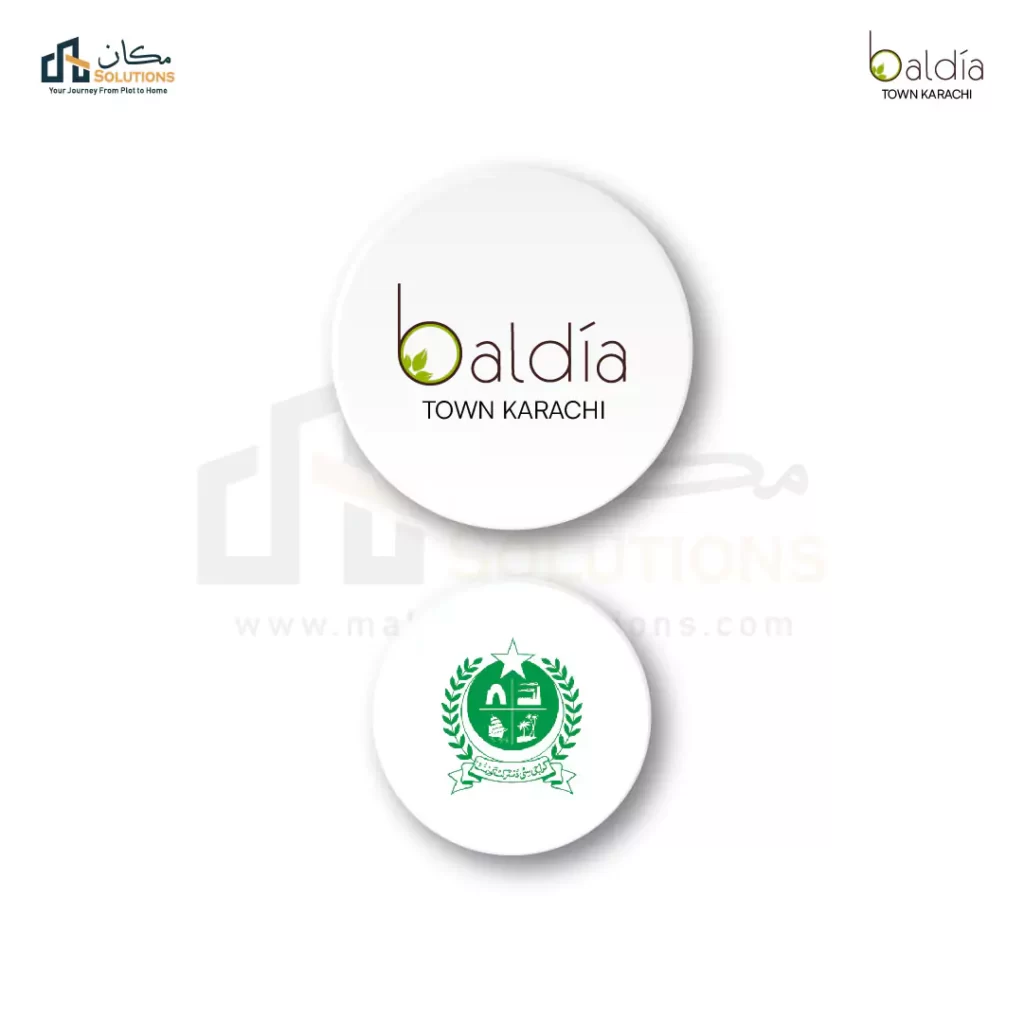 Baldia Town Karachi Development Status
---
Development status of Baldia Town Karachi shows that it is a developed housing society in the most beautiful location of Karachi. The developers did phenomenal development in this society in accordance with the modern infrastructure.
Baldia Town Karachi Latest News
---
Baldia Town Karachi house for sale according to the latest updates about this residential project. You can purchase your house with the help of the experienced sales team of Makaan Solutions.
Facilities & Amenities
---
Baldia Town Karachi weather ensures a peaceful lifestyle for the residents in the presence of top-notch amenities and facilities. You will be able to enjoy the brilliant facilities and amenities in this residential project to live comfortably.
Grand Mosque
The developers constructed a grand mosque in this housing society to allow the religious residents to offer their religious duties easily. You will be able to offer prayers five times a day as this mosque is located within the premises of society at walking distance.
Basic Utilities
Water is the basic need for every resident within the Baldia housing society. The developers worked to include the purified water facility for every plot in this housing scheme. They made sure to apply the filtered water without any breakdown.
Electricity and gas are also considered necessary utilities for the residents. The developers developed an underground system to supply gas and electricity in this residential project.
Shopping Malls
This housing society consists of several shopping malls that offer the best shopping experience to the residents. There are international and local brands in this society that fulfill the residents' shopping needs. So, you will be able to shop for everything within the premises of the Baldia housing scheme.
Education Complex
The government considered the facility of education within this phenomenal society. The presence of colleges and schools ensured phenomenal education standards for the residents. You will be able to get a high-standards education to have a bright future.
Healthcare
The availability of world-class hospitals in this housing society ensures the best healthcare experience for the residents. The medical staff with advanced medical equipment ensures that residents will be able to get exceptional treatment with medical services for 24/7 hours.
Business Area
The society consists of a business hub to enable businessmen to accelerate their businesses at a fast pace. There are high chances of business growth in this society because it is a well-developed housing society.
Security
The developers made sure of exceptional security for the residents in this society. It is gated-community in the presence of security staff and CCTV cameras to ensure excellent safety for the residents.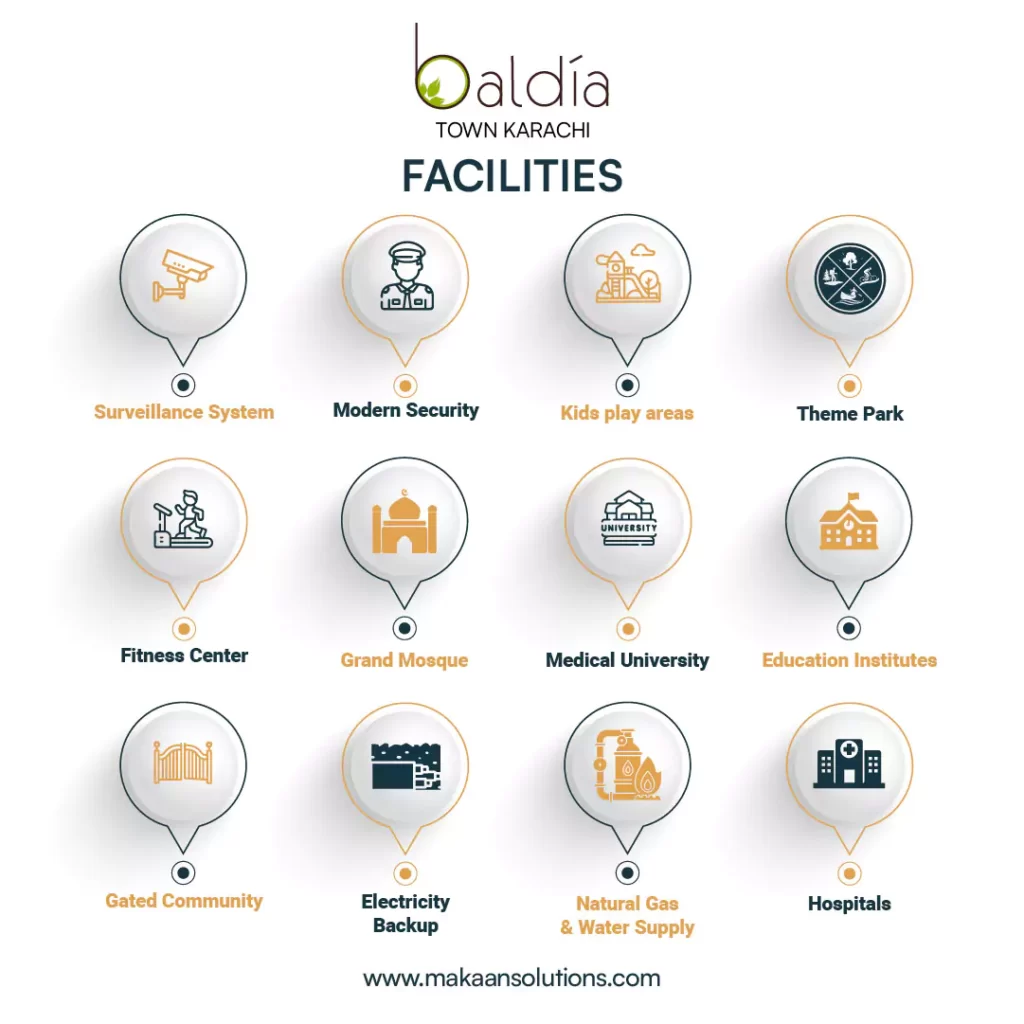 Pros & Cons
---
Pros:
Most reliable developers
Ideal location
Exceptional master plan
Modern infrastructure
Magnificent development
Providence of basic and advanced facilities
Cons:
Conclusion
---
Baldia Town Karachi is the best residential project with an ideal location that is accessible from different landmarks. Therefore, this housing society offers different categories of residential plots to allow customers with distinctive budgets and backgrounds. You can also buy a property in this society with the help of Makaan Solutions. We also help local and overseas Pakistanis in the reservation of properties in Bahria Town Phase 2 and Bahria Town Peshawar.
[elfsight_whatsapp_chat id="1″]