Al Rehman Garden Phase 2
Al Rehman Garden Phase 2 Lahore is a top-notch housing project by Al-Rehman Developers in the premium location of Fazipur Road to offer the easiest accessibility from the different landmarks. There is an affordable payment plan for available properties in this residential project.
Al Rehman Garden Phase 2: introduction
---
Al Rehman Garden Phase 2 Lahore is a high-demand housing society that has become the first choice because of the great development and providence of international facilities in Phase 1. This exceptional residential project consists of convenience and serenity for the customers.
Al-Rehman Garden Phase II Lahore is a premium housing project on the premium location of Lahore-Jaranwala Road. There are different plots for sale in Al-Rehman Garden Phase 2, which has a total area of more than 3,000 acres.
Al Rehman Garden Phase 2 Location
---
The location of Al Rehman Garden Phase 2 Lahore is on Faizpur Road near the main Jaranwala-Lahore Road to offer easy access from the walled city of Lahore and District Courts. It has become a premium residential project because of the ideal location in Lahore.
Al-Rehman Garden Phase II is just a few kilometers away from Saggian Bypass and Ravi River. Therefore, you can reach this society through the M2 Motorway and Jaranwala-Sharaqpur Road. You can also travel on Ring Road to reach this marvelous housing society.
Nearby Places
Al-Jalil Garden
Adams Housing Society 
Lahore Motorway City
Marina Sports City
Accessibility
M2 Motorway is just 2 minutes away
Faizpur Exit Toll Plaza is 5 minutes away
Amna Inayat Medical College is 8 minutes away
Lahore Ring Road is 10 minutes away
Rvai River is 12 minutes away
District Courts are 15 minutes away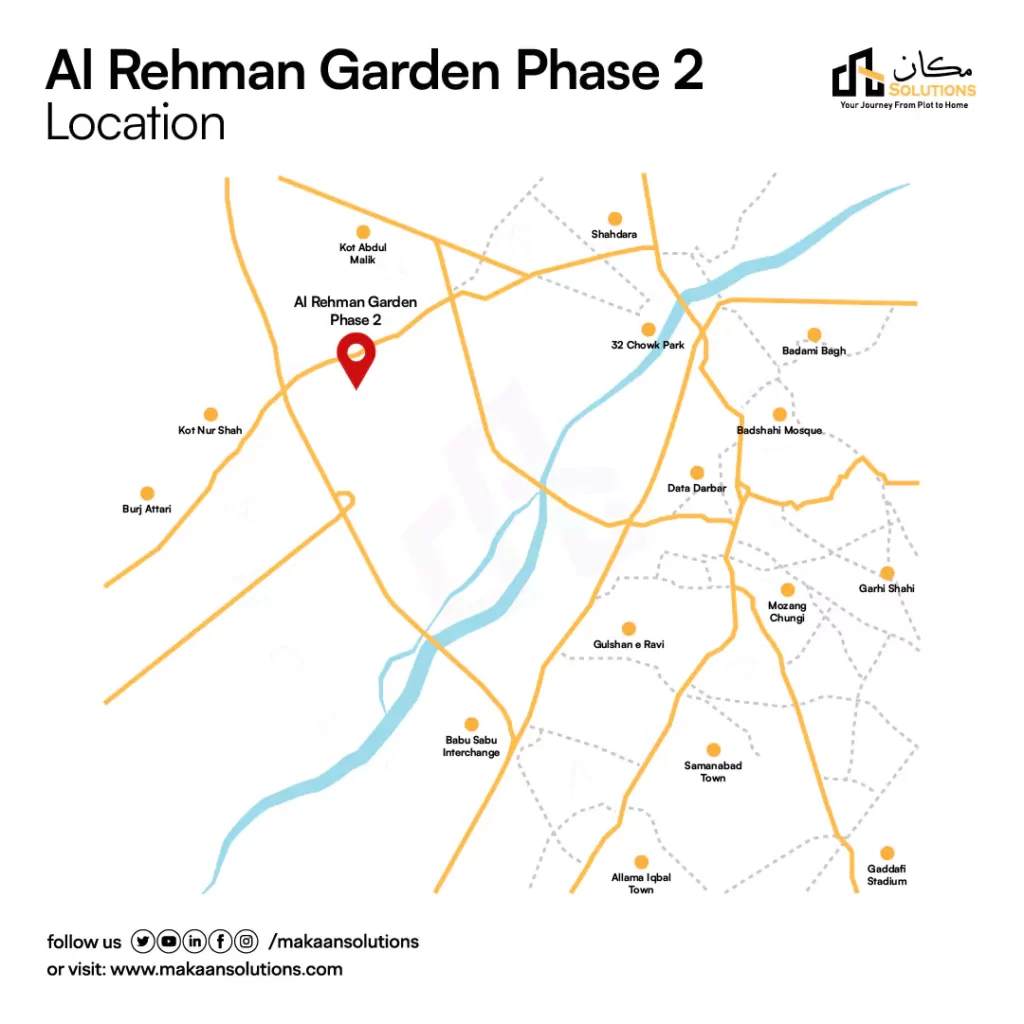 Al Rehman Garden Phase 2 Map
---
The location of this phase is easily visible on Google Maps.
Al Rehman Garden Phase 2 Payment Plan
---
The payment plan of Al Rehman Garden Phase 2 Lahore is available for potential customers to purchase the residential and commercial plots. Moreover, the reasonable payment schedule for the available plots allows the potential clients to purchase their properties.
The management aimed to offer affordable plot prices to enable middle-class people to purchase their plots at reasonable monthly and yearly installments. Therefore, the local and overseas Pakistanis can own their properties in this trending housing society in Lahore.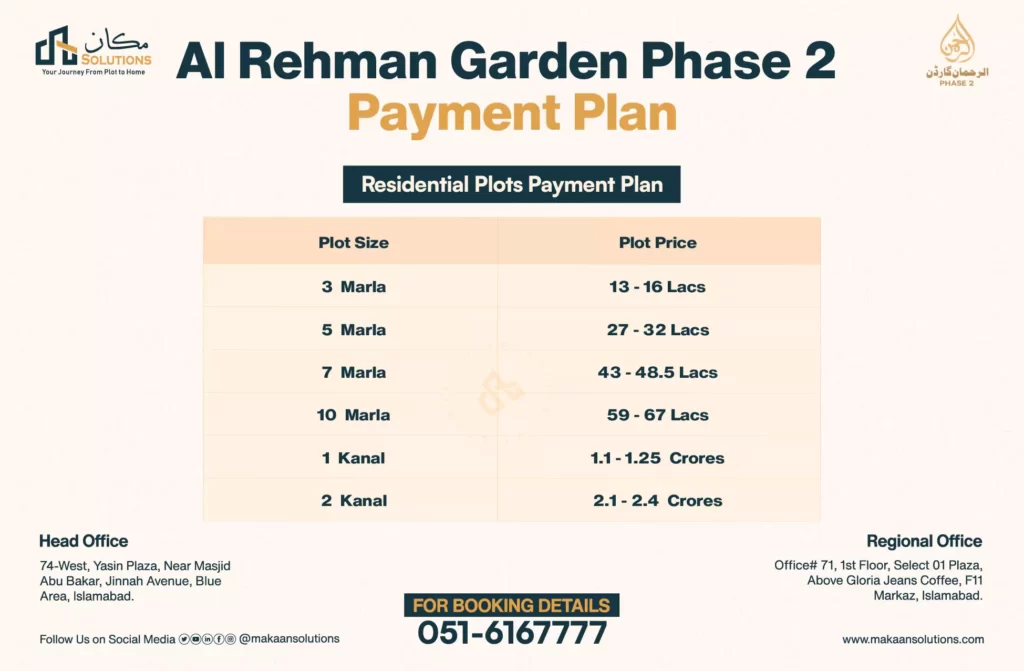 How to Book a Plot in Al Rehman Garden Phase 2?
---
Fill out the application form for Al-Rehman Garden Phase II
Attach the necessary documents
Attach the receipt after making the down payment
Submit the application form to the management
You can book your commercial or residential plot by following these important steps to own a property in Phase 2 of Al Rehman Garden Lahore. It is good to know that customers can get the smooth assistance of Makaan Solutions to reserve their plots efficiently.
Required Documents
Client's 2 CNIC copies
Client's 2 passport-size images
Next to Kin's 2 CNIC copies
NICOP
The purpose of mentioning the required documents is to enable the potential customers to go through a smooth plot booking procedure. Therefore, the customers need to bring all important documents to own their plots in Al-Rehman Garden Phase 2.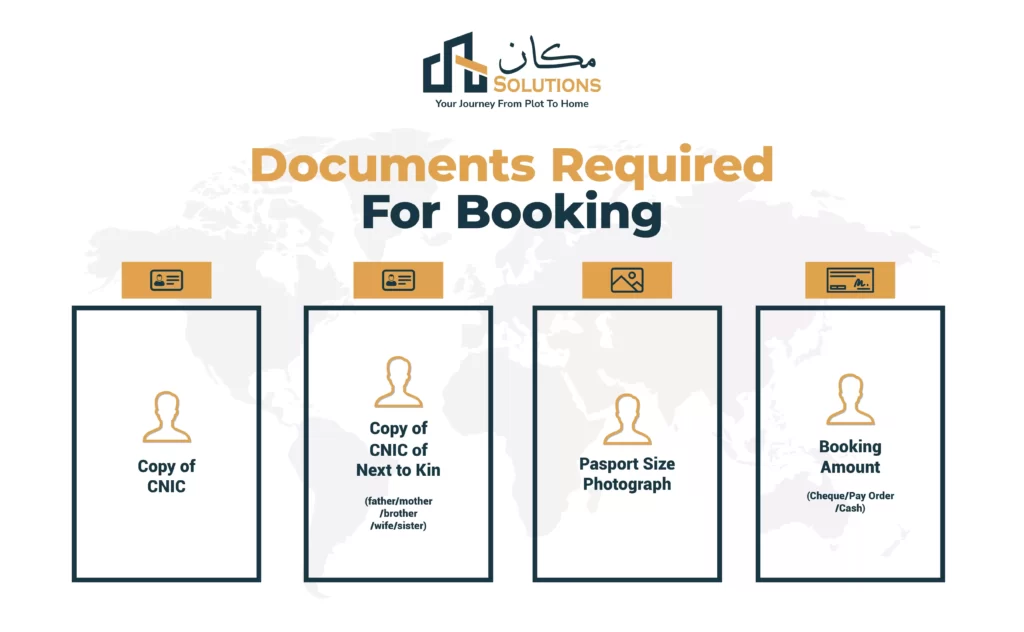 Benefits of Investment in Al Rehman Garden Phase 2
---
There are several benefits of investing in Al Rehman Garden Phase 2 Lahore. You can also purchase a property in this society with the potential prospect of making the maximum profit in a short period. We are going to discuss some of the top-notch perks of investment.
High ROI
The management started this exceptional project to offer the maximum returns to the clients who missed the opportunity to make investments in Phase 1. Therefore, you can make profitable investments in the available properties to earn the highest profits.
Financial Security
The available residential and commercial properties at the pre-launch rates allow the clients to enjoy financial freedom even in a financial crisis. Therefore, every property has become a great source of financial independence for the local and overseas Pakistanis.
Passive Income
You can construct your plot after the processes of balloting and possession. You will be able to rent out your constructed property to the tenants to make a passive income without making any prominent effort. Moreover, the rental income of property increases every year.
Valuable Asset
The ideal location and affordable payment schedule ensure that your property in this society will become a valuable asset for you. Therefore, you can also reserve your plot in this society, which will be a great source of financial aid in the inflation and other financial crises.
Al Rehman Garden Phase 2 Master Plan
---
The master plan of Al Rehman Garden Phase 2 Lahore is done by a phenomenal team of professional designers. They have planned this phase to offer tremendous amenities and facilities with the availability of commercial and residential plots.
The layout plan for Al Rehman Garden Phase II Lahore allows the clients to visualize the housing project and choose the desired plot category easily. This master-planned residential project has become a priority for the local and overseas Pakistanis.
Residential Plots
3 Marla
5 Marla
7 Marla
10 Marla
1 Kanal
2 Kanal
Al Rehman Garden Phase 2 NOC Status
---
There is no authentic information available on the NOC status of Al Rehman Garden Phase 2 Lahore. However, the legal status has crucial importance for every housing society that wants to become the priority for investors and end-users.
An NOC-approved housing society always offers secure properties to potential clients. It is a legal housing scheme in the elegant location of society to enable you to purchase your property in this secure residential project.
Al Rehman Garden Phase 2 Owner & Developers
---
The owners and developers of Al Rehman Garden Phase 2 are Al-Rehman Developers who have been recognized in the real estate industry because of their exceptional development work in Lahore, Sialkot, Gujranwala, and Muridke.
The developers have a phenomenon of developing real estate projects to attract the end-users and investors. They have started this excellent project to ensure the international lifestyle and exceptional return on investment to the customers.
Projects by Al-Rehman Developers
Al-Rehman Garden Sialkot
Al Rehman Commercial Center Gujranwala
Garden City Muridke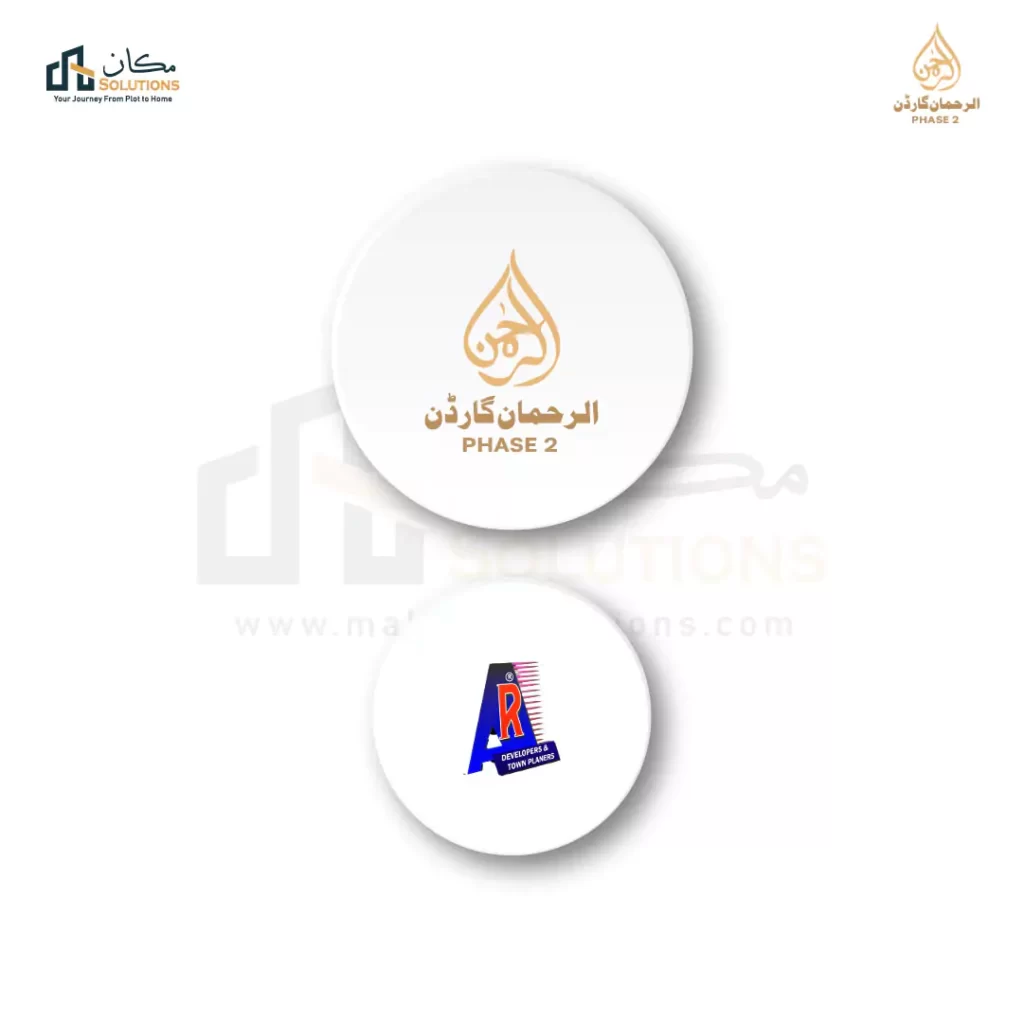 Al Rehman Garden Phase 2 Development Status
---
The latest development status of Al-Rehman Garden 2 developers has completed the maximum development in accordance with the modern infrastructure. They have followed the international development standards.
Al Rehman Garden Phase 2 Latest News
---
The latest updates show that plot prices are being boosted on a daily basis to ensure the highest profitability ratio for the customers. Therefore, investors are earning a magnificent amount of profit after investing in this top-notch residential project.
Facilities & Amenities
---
The management of Al-Rehman Garden Lahore offers a lot of brilliant amenities and facilities to facilitate the customers. The residents are able to access the phenomenal services to upgrade their living standards.
Healthcare Service
The management offers excellent healthcare service to the residents within the premises of this phenomenal society. The availability of advanced medical equipment and qualified staff at Al Rehman Hospital ensures top-class medical treatment for the patients.
Education
The developers have also included the magnificent education complex that includes the best educational institutes like Punjab College, Punjab School, Lahore Grammar School, and Allied School. These institutes have an up-to-date syllabus to ensure the providence of modern education.
Commercial Area
The commercial area in this phase includes different banks like Habib Metro Bank, Allied Bank, Bank Alfalah, Meezan Bank, and Allied Bank to smooth the shopping experience. Al Rehman Square Mall Apartments and Shopping Mall include the different brands.
Risen Cash and Carry also consists of different products to facilitate the consumers with a phenomenal shopping experience.
Community Club
The phenomenal community club at the heart of this residential project offers a holistic workout experience to the residents. This elegant club in society also allows the residents to connect.
Underground Electricity & Gas
The management also offers an underground electricity system to ensure maximum safety for the residents. Moreover, gas is also available in this brilliant housing society. You will face no issues related to these basic amenities.
Fitness Center
The fitness center, in this phase, enables the residents for the proper workout to maintain the high standards of healthy lifestyle. You can use the available equipment on a daily routine to become an active member of society.
Playgrounds & Parks
The society consists of different parks and playgrounds to ensure the playing and relaxing areas for the residents. Therefore, you will be able to play your favorite game in the sports ground of Phase 2.
Security
The management has ensured the best surveillance system for every user in this brilliant housing scheme. There is a top-notch security system with the presence of qualified staff to ensure the ultimate safety of residents.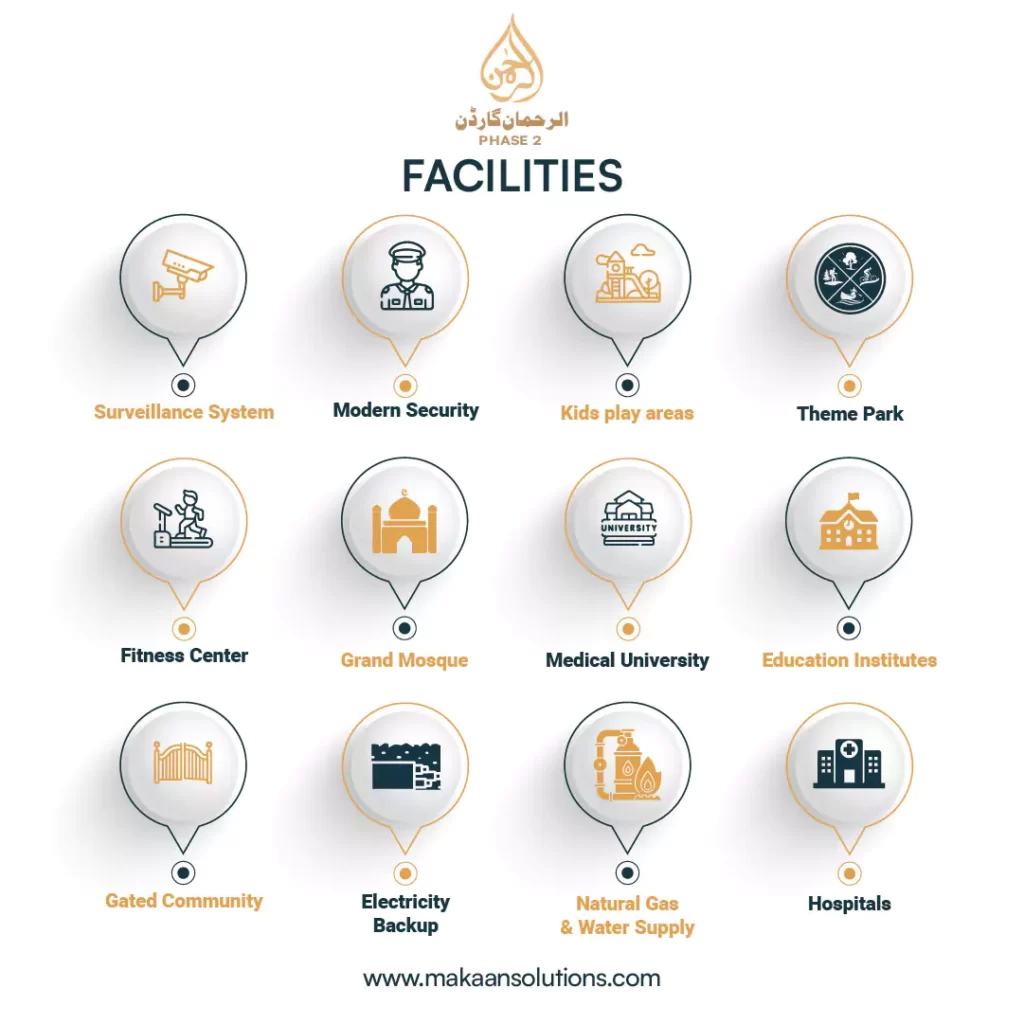 Pros & Cons
---
Pros:
The qualified owners and developers
The ideal location
A master-planned housing society
An affordable residential project
The best amenities and facilities
Cons:
A little away from the center of Lahore
Conclusion
---
Al Rehman Garden Phase 2 is an ideal housing society because of its premium location and affordable payment schedule. Therefore, you can own your plot in this brilliant housing project. We also deal in Lahore Smart City and Zaitoon City Lahore, which are the best societies.
[elfsight_whatsapp_chat id="1″]