Shamsi Farmhouse Karachi is an elegant farmhouse project in the city of lights. It is also known as Shamsi Resort Farmhouse ( شمسی ریزارٹ فارم ہاؤس) with different options for potential customers. It is one of the best farmhouses in Karachi, with the availability of phenomenal facilities.
Shamsi Farm House is located on Damloti Road, close to K N Academy in Karachi. The management of the farmhouse offers the best services in various packages at reasonable prices. Shamsi Resort Farmhouse has been a perfect option for everyone.
Shamsi Farmhouse Location
---
The Shamsi Farmhouse is located on the main Damloti Road in the vicinity of Malir. Moreover, it is just a few kilometers away from Malir Cantonment. You can easily visit this farmhouse from the different places in Karachi, like Bahria Town Karachi 2 and Falaknaz Dream Villas Karachi.
Shamsi Farmhouse Malir Karachi is an easy-to-access farmhouse because it is at a drive of only 8 minutes away from Jinnah International Airport. The management started this phenomenal farmhouse project in the premium location to ensure the availability of world-class services.
Shamsi Farm House Map
---
You can also check the farmhouse location on Google Maps.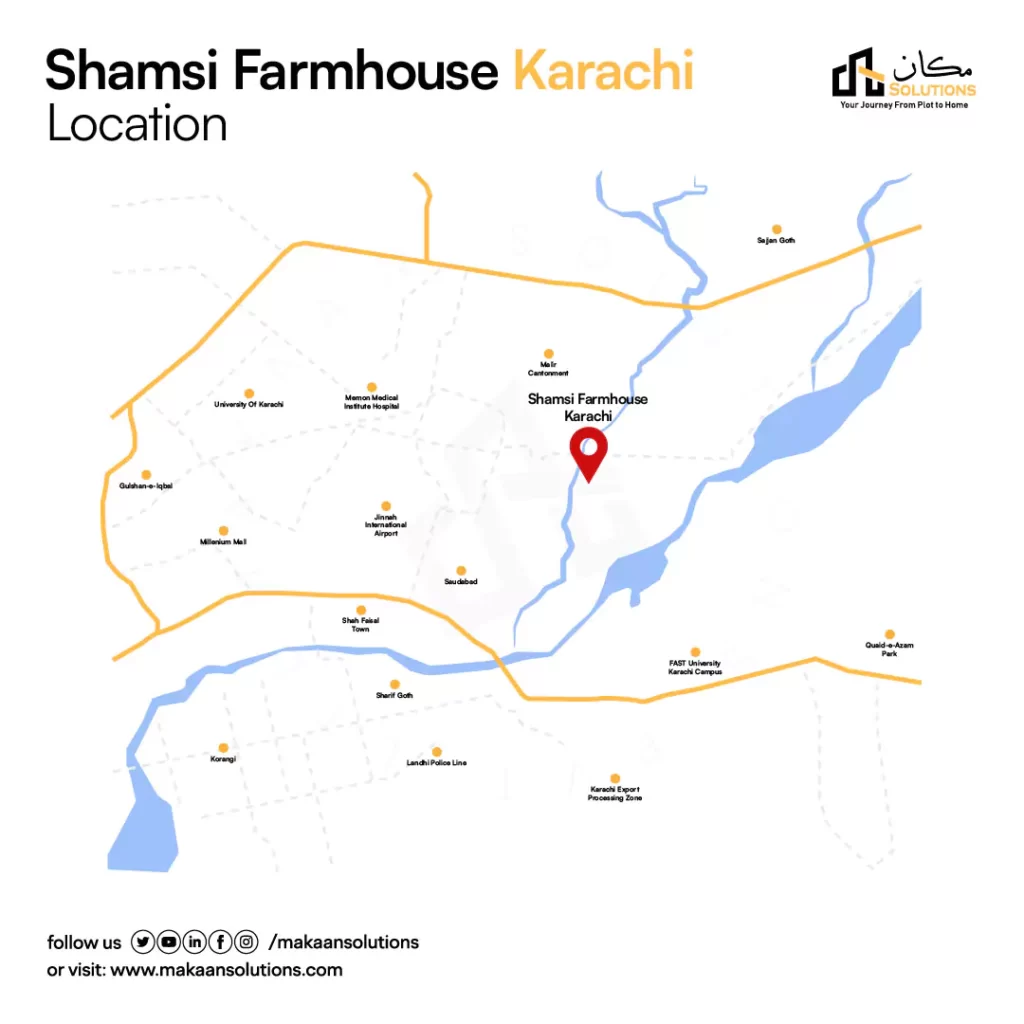 Shamsi Farmhouse Price
---
Shamsi Farm House booking price is very reasonable for every Pakistani who wants to spend quality time with family or friends away from the hustle and bustle of the city. Moreover, it is the best place to arrange your corporate events in the presence of magnificent services.
The prices range from 30,000-50,000 for occupations of 12 hours. It is also the fact that weekend prices are different from the normal days. However, It has been the best place because of the reasonable prices in the presence of modern amenities and facilities.
How to Book Shamsi Farmhouse Karachi?
---
The management of Shamsi Farmhouse and Resort offers a simple and easy booking process. You can visit the Shamsi Farm House office or call the official phone number to reserve the desired unit.
Shamsi Farm House Options
---
There are three different options in this farmhouse. You can check the availability and your budget to book your favorite unit.
Unit 1:
There are 2 AC bedrooms with a large hall and attached bathrooms. Shamsi Farm House Unit 1 includes 3 changing rooms and 3 bathrooms close to the swimming pool.
Indoor Games
Carrom Board
Foosball
Snooker table
Table tennis
Outdoor
Badminton court
Basketball area
Boating area
BBQ area
Big ground with football goal pass and cricket pitch
Dining area
Horse riding
King-size pool and mini pool
Kitchen with deep freezer
Long tennis area
Mini zoo
Unit 2:
This unit includes 2 AC rooms and 1 non-AC room with the attached bathrooms. Moreover, 4 changing rooms are also part of this unit.
Indoor Games
Carrom board
Foosball
Pool snooker
Table tennis
Outdoor
Badminton court
Basketball area
BBQ area
Mini ground
Swimming pool and children's pool
Unit 3:
Shamsi Farm House unit 3 includes 2 AC rooms and 1 non-AC room with the facility of attached bathrooms. There are also 4 changing rooms.
Indoor Games
Carrom board
Foosball
Table tennis
Outdoor
Badminton court
Basketball area
BBQ area
Mini ground
Swimming pool & children's pool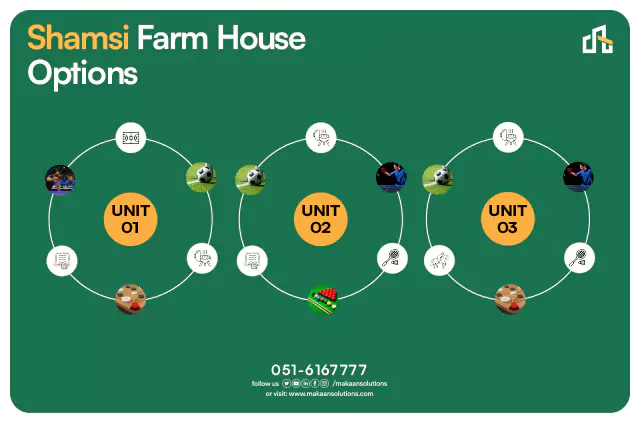 Shamsi Farmhouse Services
---
I have become a top-rated farmhouse because of available services to facilitate the users in the beautiful location at affordable rates. Therefore, you can explore the available amenities and facilities to live peacefully in a luxurious environment.
It is a top-rated farmhouse with a spacious BBQ area to allow you to enjoy BBQ with your family and friends.
It is the only resort in Karachi with a fabulous boating area to allow the users to enjoy their time.
This farmhouse also includes a mini zoo with the presence of different beautiful animals.
You will be able to enjoy the best indoor games without worrying about the outside environment. The management has added the carrom board, foosball, table tennis, pool, and snooker table.
The management has also included outdoor games in this phenomenal farmhouse to ensure the best gaming experience. There is a badminton court, basketball area, and swimming pool.
There are qualified and trained security staff to ensure the ultimate secure environment with the use of advanced technology.
Shamsi Farmhouse Reviews
---
Google Reviews of Shamsi Resort Farmhouse are helpful resources to know the worth of staying here. These reviews allow you to know about the facts of the farmhouse from the customers who have already stayed there.
This farm stay in Karachi has a positive rating because a lot of customers recommend it to the users. However, a few people also criticized the management for not taking care of this beautiful farmhouse. You can also check the reviews of Dua Farmhouse, which is close to it.
Final Words
---
Shamsi Farmhouse should be your priority when you are looking for an affordable and premium farm. You can consider your budget and stay to choose a unit in this farmhouse. Moreover, you can also explore the farm houses in Lahore, which are the ultimate destinations.
Shamsi Farmhouse Karachi
If you want to know about Shamsi Farmhouse Karachi Contact Makaan Solutions. Our Sales Executive Officer will provide you with all the latest information. Starting from consultation to choosing the property, and from booking to owning your dream property. For further details, please do not hesitate to contact us with the below-given information: