Saadi Town Karachi
Saadi Town Karachi is a legal housing society with NOC approval from Cantonment Board Malir located in Scheme 33 near Jinnah International Airport. There are houses and plots available for sale in this society. This master-planned housing society offers properties at an affordable payment schedule.
Introduction
---
Saadi Town Karachi is a legally-approved housing society that is located in Scheme 33 Karachi to offer the best standards for residency and business. This housing society offers world-class facilities to the customers. The management named this residential project in honor of Saadi Shirazi.
Saadi Town in Karachi is being developed in accordance with modern standards for elegant infrastructure. The developers have a vision of brilliant development that enables you to reside in this society as soon as possible. There are different properties at different prices to ensure the best investment options.
Saadi Town Karachi Owner & Developers
---
Developers of Saadi Town Karachi are Pakland Housing Private Limited, to bring exceptional development in the real estate industry of Karachi. The developers include engineers and builders to develop a beautiful housing society near Jinnah International Airport.
Owners of Saadi Town are committed to offering different options of residential and commercial plots to the customers. They have made sure of a reasonable payment schedule to enable the upper and middle-class people to own profitable properties in this best housing society.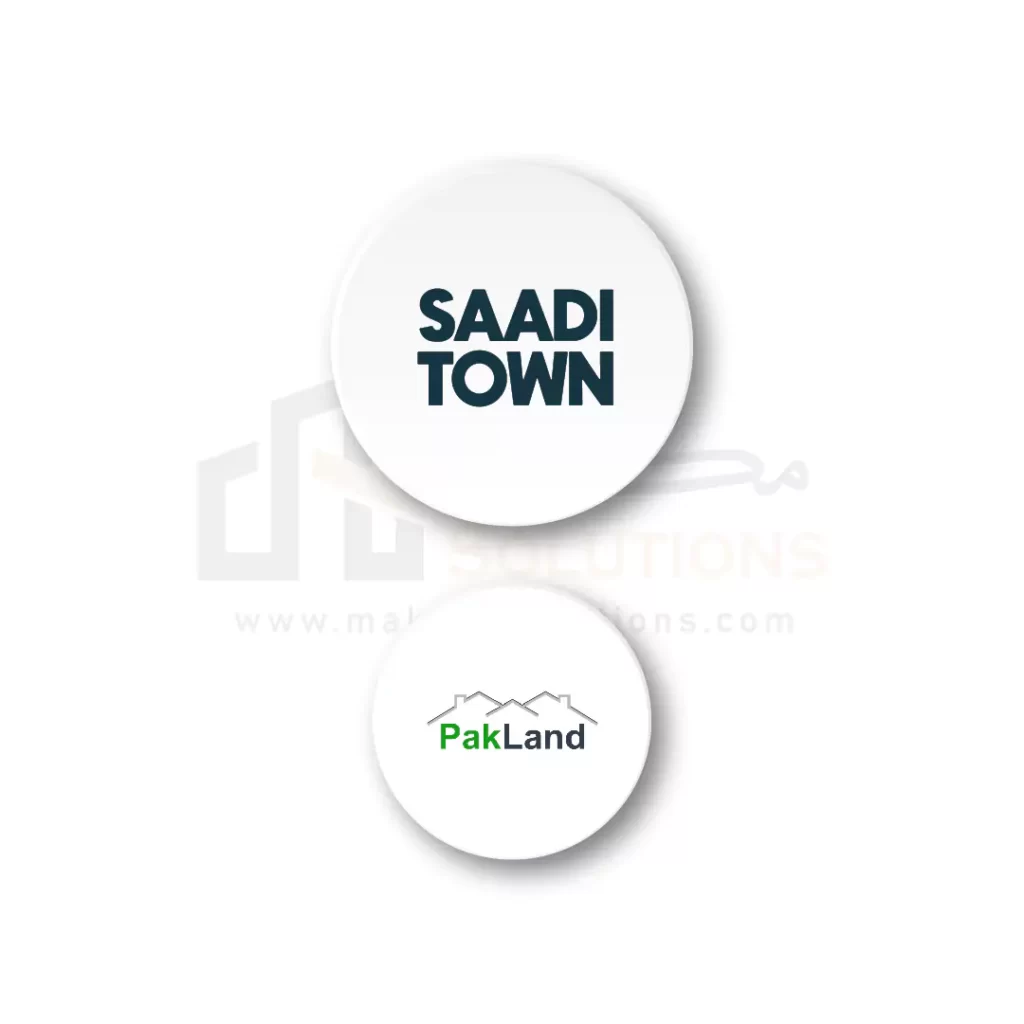 Saadi Town Karachi NOC Status
---
NOC status of Saadi Town Karachi shows that Cantonment Board Malir (CBM) granted the No Objection Certificate. This NOC-approved housing society urges you to buy a property without worrying about legal status. It has become the legal housing scheme after the approval of the submission of required documents.
Saadi Town Karachi Location
---
Location of Saadi Town Karachi is in Scheme 33 to allow you to access the society from several areas of Karachi. It is located near Super Link Road to enable people to reach society within a few minutes. Moreover, Saadi Housing Scheme is situated near Abdus Salam Road to enable you to visit the nearby housing societies and landmarks easily.
Saadi Town location is also easily accessible from Super Highway by traveling on Malir Link Road. Therefore, people from the nearby cities prefer to buy their plots in this society because of its ideal location. The residents will be able to reach Jinnah Airport and the University of Karachi within a few minutes of this society.
You also reach this fabulous residential project from Karachi-Hyderabad Motorway. It is a well-known fact that plot prices in Saadi Town Karachi are increasing every day because of the easy-to-access location in the city.
Nearby Places
Hakeem Villas
Ghousia Society
Madina Colony
NFK Society
Pir Ahmad Zaman Town
Saadabad Housing Society
Sadat-e-Amroha Society
Soomra Society
University of Karachi
Jinnah International Airport
Accessibility
Abdus Salam Road is 7 minutes away
Malir Link Road is 8 minutes away
Fauji Road is 12 minutes away
University Road is 13 minutes away
Hyderabad-Karachi Motorway is 14 minutes away
Malir Cantt Road is 16 minutes away
National Stadium Road is 20 minutes away
Liaqat Road is 22 minutes away
Super Highway is 30 minutes away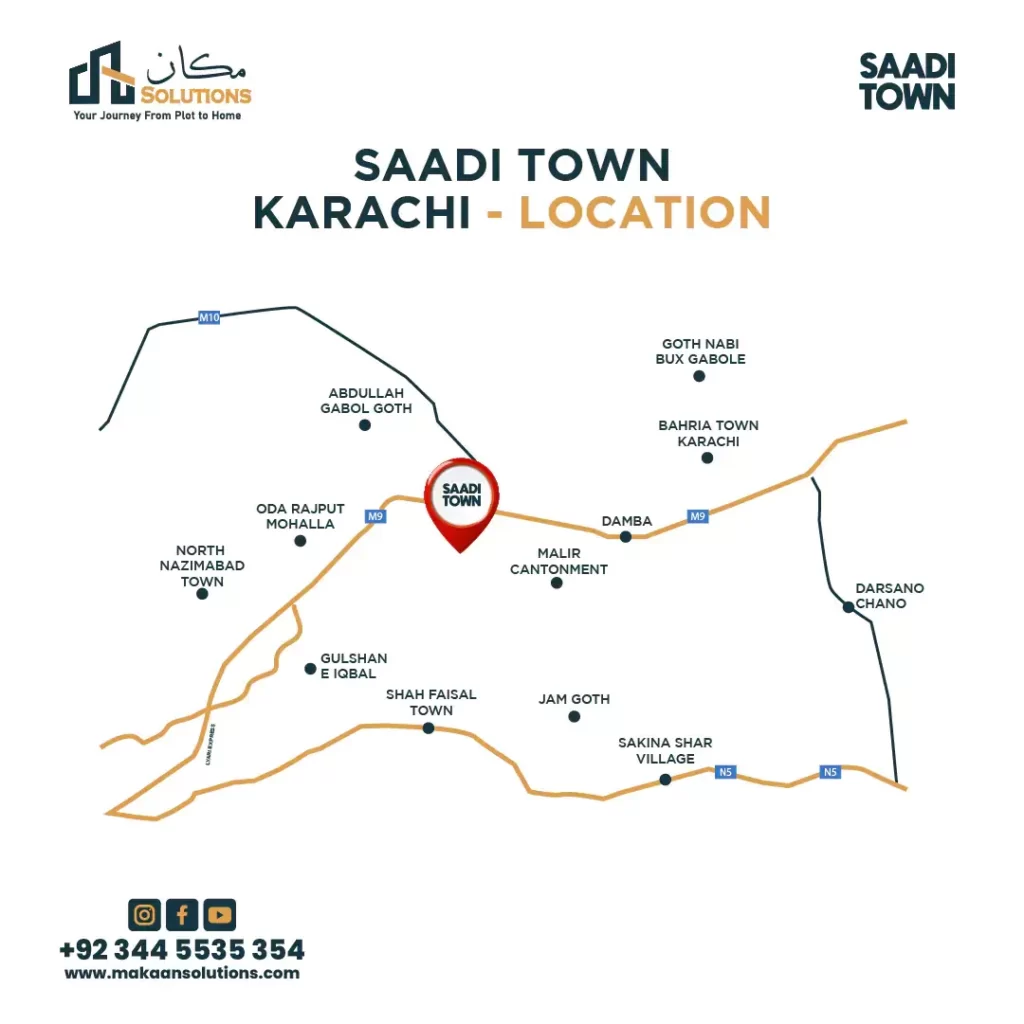 Saadi Town Karachi Master Plan
---
Master plan of Saadi Town Karachi is designed by a well-experienced team of designers who are known for planning the modern infrastructure for housing societies. This is the most developed town in Karachi, which covers a huge area of land. Moreover, developers are working to develop the remaining part in accordance with the master plan.
Layout plan of Saadi Town consists of distinctive blocks in the presence of modern architecture. There are different types of houses, commercial, and residential plots in this society to facilitate customers with different budgets.
Saadi Town Karachi Blocks
---
Block 1
Block 2
Block 3
Block 4
Block 5
Block 6
Block 7
Houses:
120 Square Yards
240 Square Yards
Residential Plots:
120 Square Yards
193 Square Yards
240 Square Yards
400 Square Yards
Commercial Plots:
83 Square Yards
88 Square Yards
89 Square Yards
90 Square Yards
120 Square Yards
147 Square Yards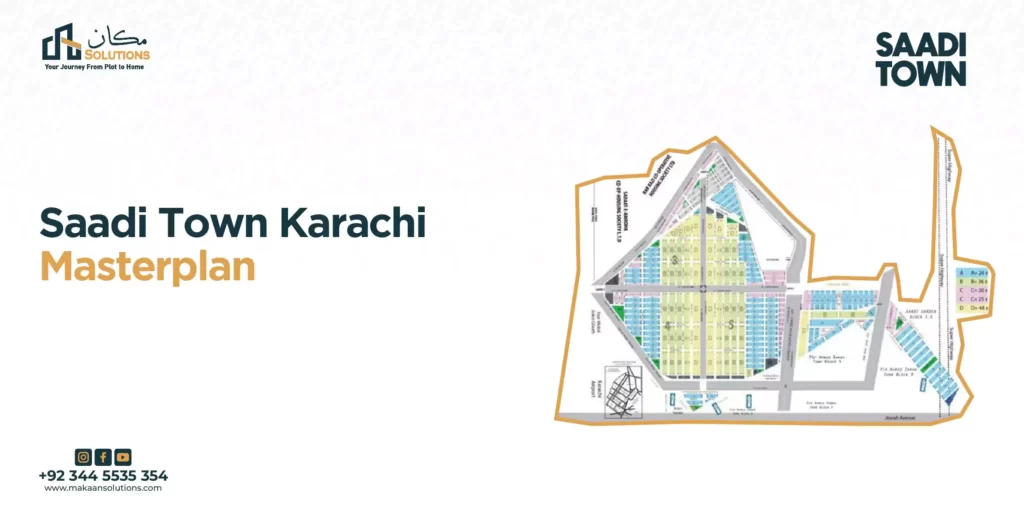 Saadi Town Karachi Payment Plan
---
Payment plan of Saadi Town Karachi is very reasonable even though this housing society is surrounded by numerous housing societies and famous places. This payment schedule allows every potential customer to reserve a valuable property in this phenomenal housing society. Therefore, a lot of people have already reserved their properties in this Saadi Society.
Installment plan of Saadi Society allowed customers to reserve their valuable residential and commercial plots. Therefore, Saadi Town plots for sale gained the ultimate popularity by allowing customers to book their real estate properties with an easy-to-pay down payment.
Houses Prices:
---
There are houses for sale in Saadi Town Karachi, allowing the potential customers to purchase the ready-made houses rather than purchasing the plots and bearing the costs of construction.
120 Square Yards Houses
The prices of available houses in this society range from 7,500,000 to 65,000,000.
240 Square Yards Houses
The prices of available houses in this society range from 12,000,000 to 31,000,000.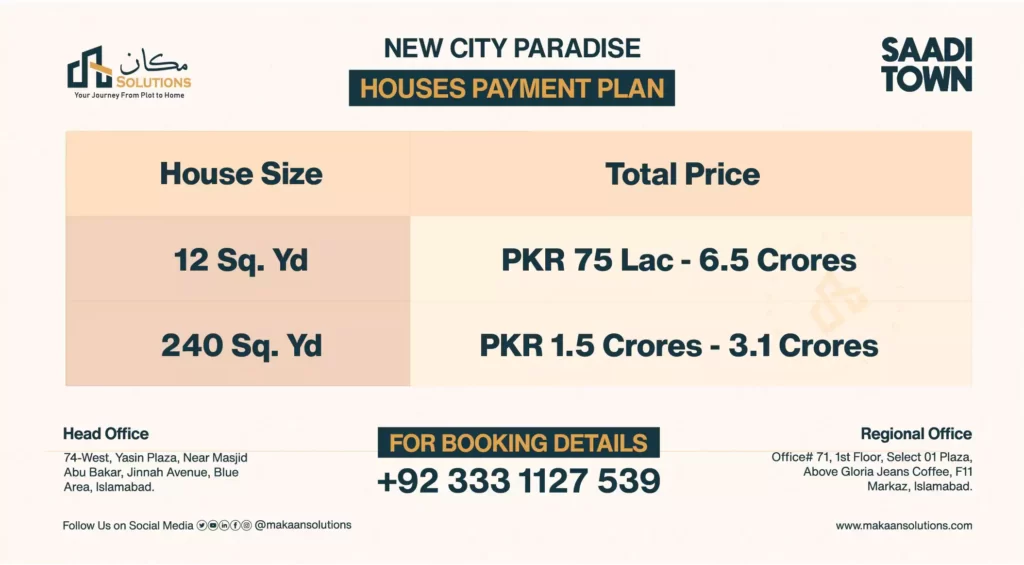 Residential Plots Prices
---
There are residential plots for sale in Saadi Town Karachi to enable customers to build their beautiful homes.
120 sq yd plot price is 6,500,000
193 sq yd plot price is 11,800,000
240 sq yd plot price is 14,000,000
400 sq yd plot price is 22,500,000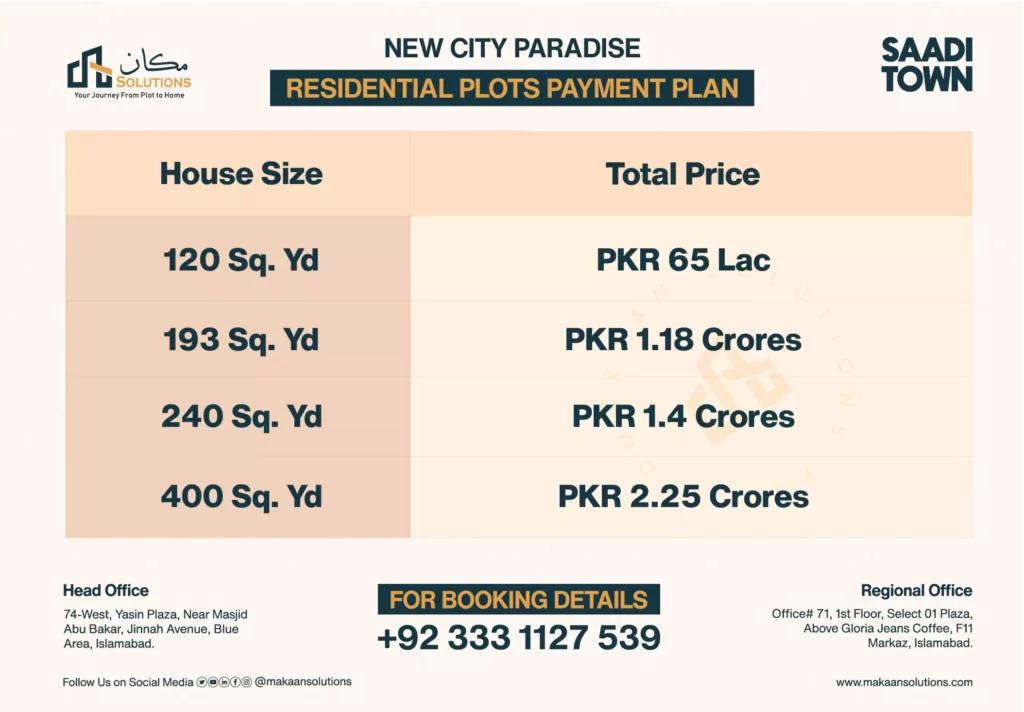 Commercial Plots Prices
---
There are commercial plots for sale in Saadi Town Karachi to bring the maximum return on investment for the investors.
83 sq yd plot price is 7,500,000
88 sq yd plot price is 9,200,000
89 sq yd plot price is 9,300,000
90 sq yd plot price is 9,500,000
120 sq yd plot price is 11,000,000
240 sq yd plot price is 27,500,000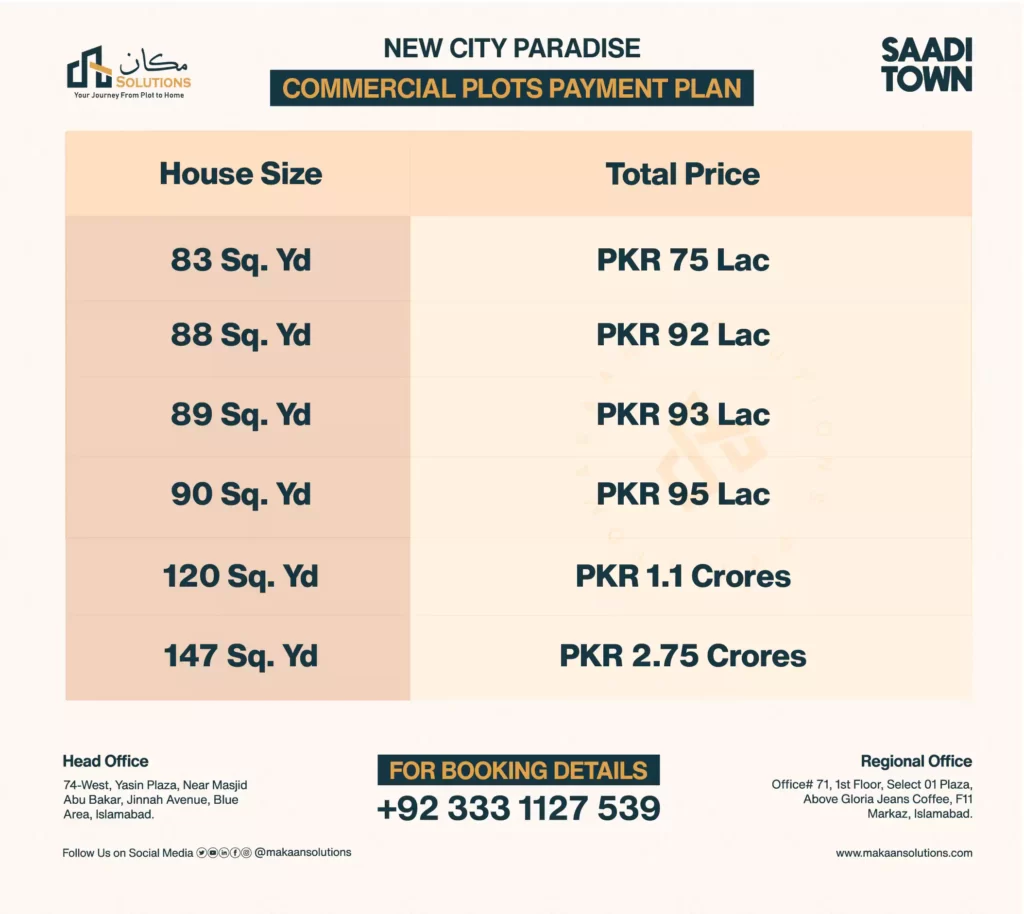 How to Book a Plot in Saadi Town Karachi?
---
Saadi Town booking process allows you to purchase a plot easily by filling out the application form and attaching the necessary documents. The smooth booking procedure makes sure that everyone can reserve a property easily. The steps for booking a property in this society are listed below:
Download and fill out the Saadi Town application form
Attach the necessary documents for booking
Submit the down payment in favor of the housing society
Submit the application form to the management
Required Documents
The necessary documents for reserving a plot are listed down:
Customer's 2 copies of CNIC
Customer's 2 images in the passport-size format
Next to Kin's 2 copies of CNIC
NICOP of overseas customers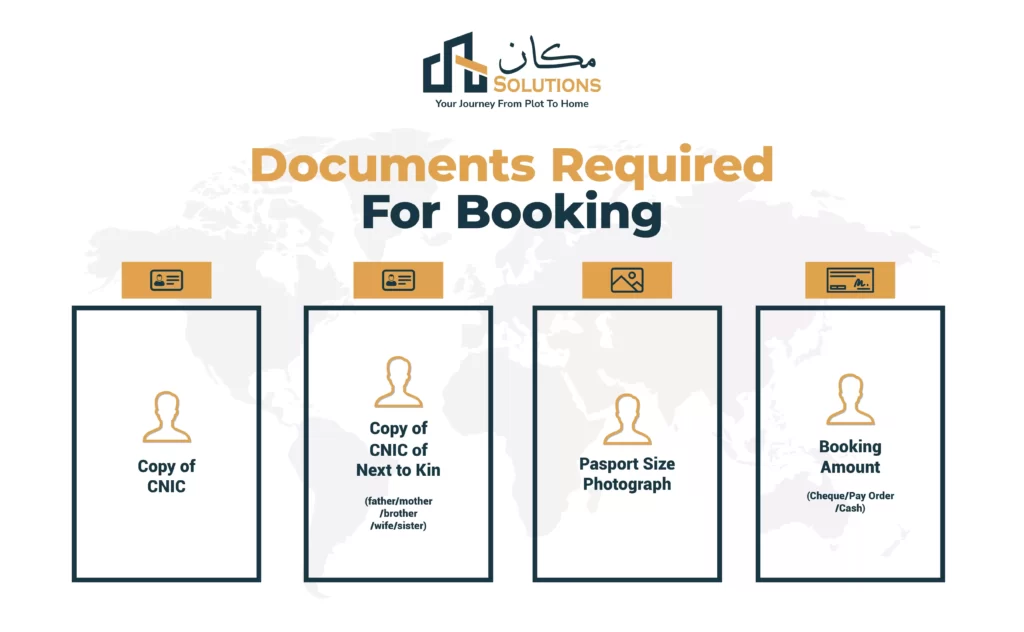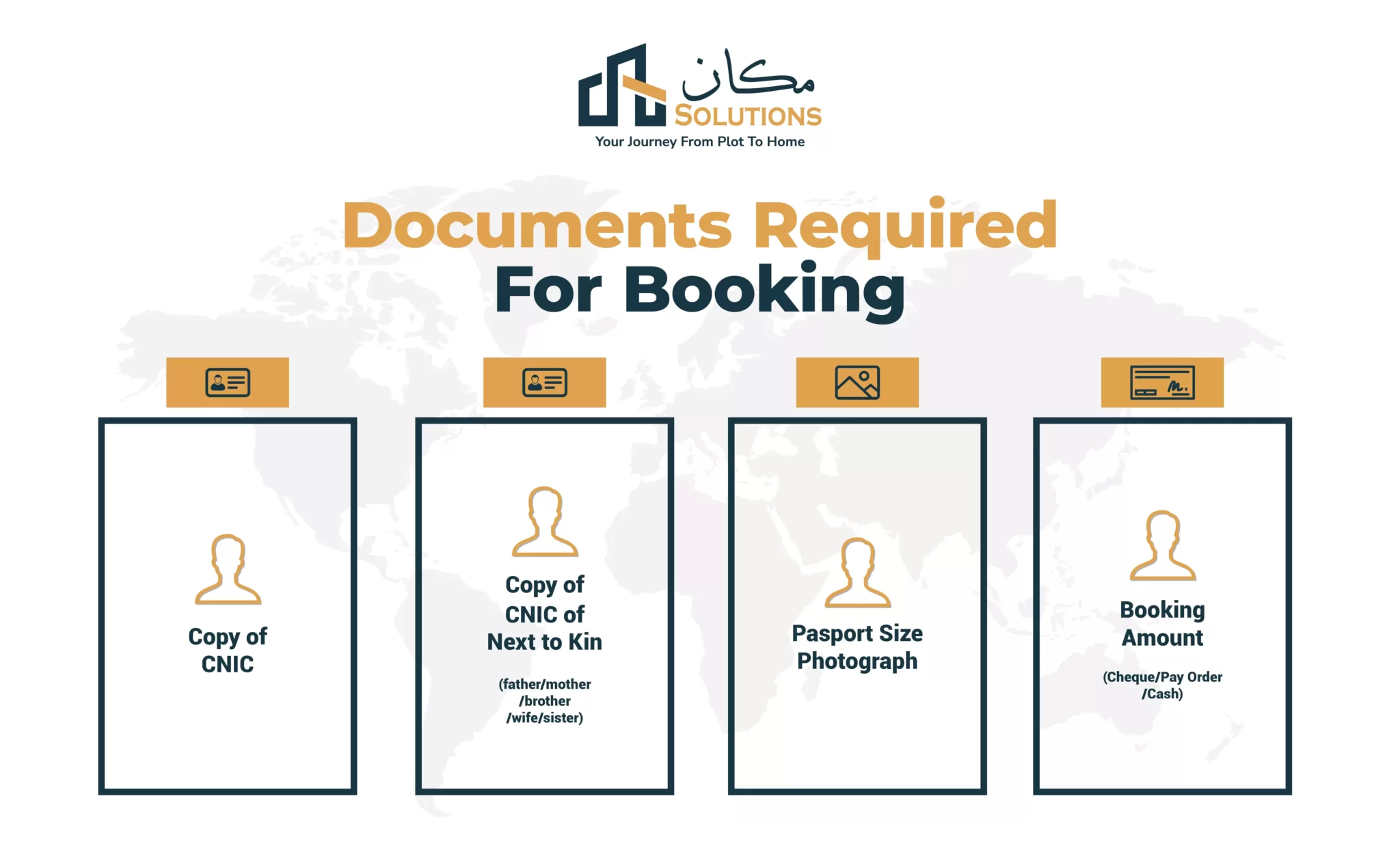 Benefits of Investment in Saadi Town Karachi
---
There are many perks of investing in Saadi Town Karachi to benefit potential investors. Therefore, you can also purchase your house or plot in this residential project to enjoy several benefits, including these ones:
Financial Independence
A property in this residential project brings financial independence for potential customers who want to get rid of their financial problems. You can enjoy financial independence by reserving your property in this society.
Passive Income
You are going to retain a source of passive income by purchasing your property in this fast-growing residential project. You can rent your house or plot in this housing scheme to make a stream of passive income which is beneficial for you in the current condition of high inflation. Therefore, you will not face any financial issues in the era of inflation.
Maximum ROI
Every investment in this magnificent housing society is going to return the highest profit to the investors. You have a chance to invest in both commercial and residential plots to earn a good profit with the passage of time.
Facilities & Amenities
---
This developed housing society in Karachi has gained popularity because of providing world-class facilities to the residents within the boundary wall. The presence of the necessary amenities enables the customers to live peacefully.
Basic Utilities
The management prioritized the basic utilities in this housing society by making sure of the seamless supply of water, electricity, and gas. The providence of these facilities enables the residents to enjoy the best lifestyle.
Mosque
The availability of a grand mosque with small mosques for the blocks ensures that residents can offer their religious duties within the premises of this residential project. Therefore, you'll be able to offer religious obligations in these mosques.
Public Transportation
The residents in this society have access to different public transportation services to travel across Karachi. You can use transportation like inDrive, Careen, and Uber for easy traveling convenience.
Marketplaces
The residents in this society will be able to access the different marketplaces from this society to fulfill their shopping needs. These marketplaces include various local and international brands to facilitate the customers.
Education
The management is dedicated to ensuring the best education for the residents. The society is located near famous schools, colleges, and universities that enable you to get a world-class education for a bright future. Moreover, this society also consists of the best educational institutes that ensure an advanced level of education for the residents within the boundary wall.
Healthcare
The health facility has become the ultimate priority of the management, which is focused on including world-class amenities for the residents. The society is located near the best healthcare centers and hospitals to ensure a healthy lifestyle for the residents.
Playgrounds & Parks
The developers have specified the green area in the society that ensures healthy living standards for residents. There are different parks and playgrounds in this society that make sure that every resident can easily access the fresh air while playing sports.
Security
The management is focused on including the best security system to ensure the best safety for the residents. The presence of security staff with CCTV cameras makes sure that residents and their belongings are safe in this society.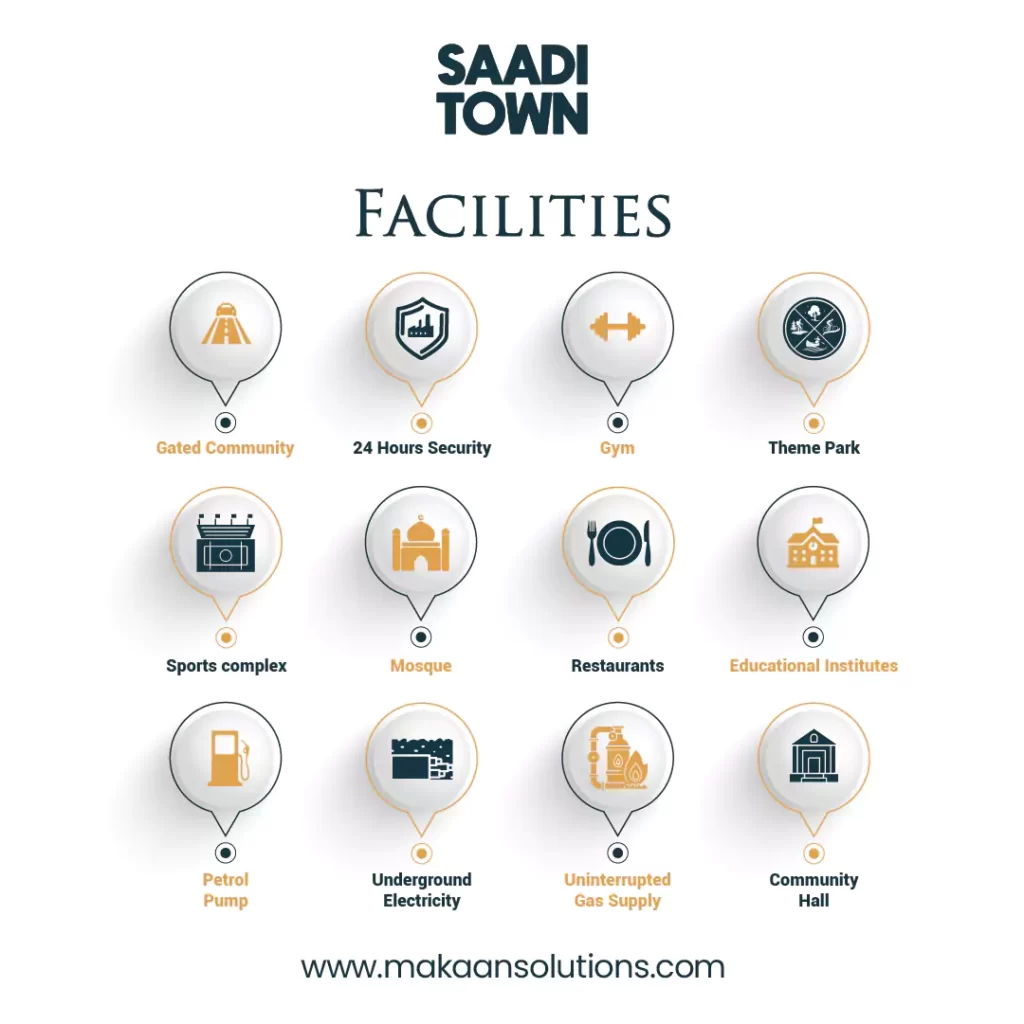 Pros & Cons
---
| Pros | Cons |
| --- | --- |
| Reliable developers | High Plot Prices |
| Ideal location | |
| Fast development | |
| Magnificent master plan | |
| Hospitals & Educational Institutes | |
| Latest infrastructure | |
Saadi Town Karachi Development Status
---
Development status of Saadi Town Karachi shows that it is a developed housing society where people have already started their residency. Moreover, the developers are focusing on the development of the remaining area.
Saadi Town Karachi Latest News
---
Latest updates of Saadi Town Karachi show that this CBM-approved society offers distinctive investment opportunities to investors in the presence of different plot categories.
Conclusion
---
Saadi Town Karachi is the most famous housing society in Scheme 33 in the neighborhood of the University of Education to offers a fantastic business and residential experience to the customers. You collaborate with the highly experienced team of Makaan Solutions to reserve your property. We also help potential customers with the reservation of available properties in Bin Ahsan Green City and Gohar Green City.
Frequently Asked Questions
---
Is Saadi Town a good place to live?
Yes, it is a peaceful place to live in the presence of all world-class facilities.
Which district is Saadi Town in Karachi?
It is located in the neighborhood of Malir Cantt.
Who is the owner of Saadi Town?
It is a famous residential project by Pakland Housing Private Limited.
Where is Saadi Town in Karachi?
Saadi housing project is located near International Airport.
Is there a house for rent in Saadi Town?
Yes, there are different houses for rent in this magnificent housing scheme.
What is the legal status of Saadi Housing Society?
It is a CBM-approved housing society in the vicinity of Malir.
Which plots are for sale in the Saadi Housing Scheme?
There are various plot categories for sale in this world-class housing society.