Lahore Smart City Ring Road Access has been finally approved by National Highway Authority. This approval of connectivity from Lahore Ring Road will enable the people of Faisalabad, Gujrat, Gujranwala, and Sialkot to visit society easily.
Ring Road access allows potential customers to reach society easily from Lahore Eastern Bypass and Lahore-Silakot Motorway. Lahore Smart City interchange approval has benefited the customers who have booked their plots in the early days, like Capital Smart City Interchange.
Lahore Smart City Ring Road Interchange
---
The approval of LSC Ring Road Interchange has been an advantage for customers who have reserved their properties at the pre-launched rates because they have earned a good amount of profit in the upcoming days.
Ring Road access issues have been resolved because the management has got the Ring Road Interchange approval from NHA. The residents and investors can get easy access to the various landmarks of Lahore city within a drive of a few minutes.
This approval of Lahore Smart City Ring Road access also ensures that the value of properties in society will be increased to offer a high ROI to the customers. The easy access allows potential investors to double up their invested money within a few months.
Ring Road Access Details
---
Overseas Prime Block has direct access from Ring Road. Moreover, the Ring Road access distance from the Overseas Block is just one to two kilometers. Overseas Pakistanis from Allama Iqbal International Airport can access society through Ring Road within 25 minutes.
The users can use the Ring Road interchange to reach out to their properties in Lahore Smart City from M-11 and M-2 Motorways. Therefore, every resident can visit a property from Kala Shah Kaku and Ferozwala places.
LSC Ring Road Access Latest Development News
---
Lahore Smart City is the best and most famous housing project because of four access points to allow every Pakistani to reach this housing project by FDHL and HRL. Habib Rafiq Private Limited is ready to construct on newly approved Ring Road interchange for Lahore Smart City.
The developers are familiar with their commitment to developing their projects by following international development standards. They will start the construction of the interchange within a few months to allow you to access LSC easily.
Connectivity Enhancements for Sustainable Transportation and Traffic Management
---
Lahore Smart City Ring Road Access has enhanced connectivity to different parts of society. This connectivity enhancement offers flexible solutions for sustainable traffic for the users in society.
Traffic management has become smooth and easy due to the approved LSC Ring Road access. The residents will be able to move quickly from society to various places in Lahore and vice versa.
Challenges and Future Prospects of Lahore Smart City Ring Road Access
---
There are prominently no challenges with the connectivity of Lahore Smart City Ring Road. However, this access point for Lahore Smart City will benefit clients with the easiest movability.
The prospects indicate a high return on investment for investors who have bought their plots in this residential project. The location of society will become more premium with the functionality of Ring Road Access.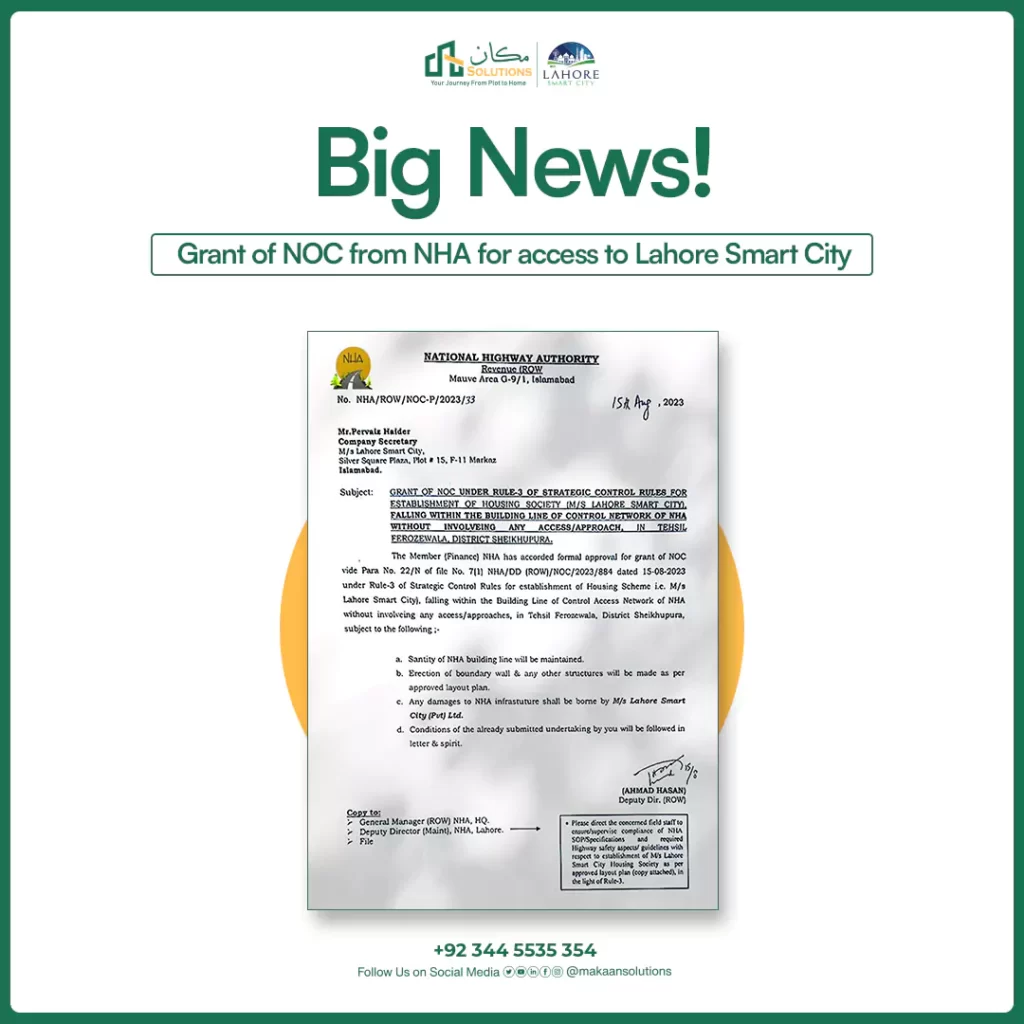 Lahore Smart City Updates
---
The latest updates on Lahore Smart City, ring road connectivity have been good news for every client who has become a member of this phenomenal housing project. Therefore, Ring Road access approval is significant in the available properties.
Final Words
---
Lahore Smart City Ring Road Access is another successful milestone achieved by the management. You can also own plots in Lahore Smart City and Capital Smart City Islamabad with the help of Makaan Solutions because both societies have dedicated interchanges.
Lahore Smart City Ring Road Access Finally Approved
If you want to know about Lahore Smart City Ring Road Access Finally Approved, contact Makaan Solutions. Our Sales Executive Officer will provide you with all the latest information. Starting from consultation to choosing the property, and from booking to owning your dream property. For further details, please do not hesitate to contact on the below-given information: