Capital Development Authority (CDA) has divided Islamabad Capital Territory (ICT) into 5 Zones. Islamabad Zone 1 lies in the northwest of the center of Islamabad. Zone 2 is in the west while Zone 3 is in the north. Islamabad Zone 4 is in the east, and Zone 5 is in the southeast. Each of these zones has its own significance.
Zone 1 has most of Islamabad's developed sectors with commercial and residential areas. Numerous housing schemes are being developed in Zone 2. In contrast, zones 3 & 5 are the least developed of all. Therefore, Islamabad Zone 4 is considered the most premium and valuable zone.
How Zone 4 is Different than Other CDA Zones:
---
Islamabad Zone 4 is considered to be home to Islmabad's most luxurious housing societies. Each of the sectors in this zone is embedded in nature. The authorities have made eco-sustainability their utmost priority for CDA Zone 4.
Therefore, most real estate developers have to follow proper regulations to build a new project.
Comparison Between Islamabad Zone 4 & Others
---
Zone 1 & 2 are considered to be pre-dominantly commercial zones. The Capital Development Authority (CDA) is planning on developing a Business District in Zone 2 to rival Blue Area. These zones are Islamabad's and the nation's economic backbone, ensuring economic stability.
Zone 3 encapsulates Margalla Hills in the north of Islamabad. CDA has enacted laws to protect the nature & wildlife in this zone. The regulations don't allow anyone to build any sort of structure in the wild here.
Zone 5 is the least developed CDA zone right now. There are several housing societies under development here. However, there are a few fully operational residential sectors in this zone.
After accessing the rest of the zones, we can now analyze the characteristics of Islamabad Zone 4. These include:
Financial Activity
Islamabad Zone 4 generates huge capital due to the development of International Standard luxurious housing societies. The commercial markets in this zone are known for international brands of shopping & eateries.
The cash flow in this zone is solidified by major development projects in the area. Some major real estate developers consider this place a golden opportunity for modern infrastructure.
Sustainable Development
CDA is promoting vertical developments in CDA Zone 4 to create a sustainable environment for everyone. The vertical developments are known for their eco-sustainability around the world. In contrast, horizontal developments damage wildlife & nature.
Furthermore, the housing societies are mainly constructed here per CDA's regulations.
Serene Landscape
The landscape of Islamabad Zone 4 makes the whole of Islamabad look like a valley. It is one of the main reasons why Islamabad is considered as world's second-most beautiful capital.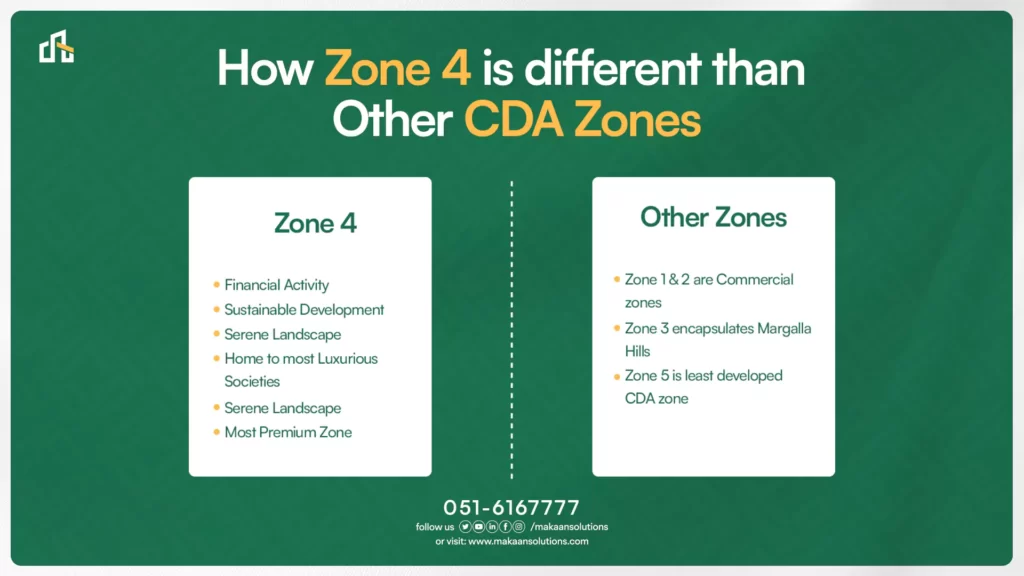 Therefore, this zone is home to the most sophisticated housing projects in Pakistan. These include:
Oasis Farms Islamabad
---
This farmhouse project is considered the most premium in Islamabad Capital Territory. Oasis Farm Islamabad is the first private real estate project to offer registries for their plots.
This project aims to develop the most serene housing establishment in the city. You can avail yourself of sophisticated facilities here without leaving the premises
Park View City
---
Park View City is one of the well-known housing schemes in Pakistan. It is located in the heart of CDA Zone 4. It is a mega project by Vision Group by Mr. Aleem Khan. This housing scheme provides equal opportunities to local and overseas Pakistanis. The lush mountains of Bani Gala surround it. Accessibility of Park View City Islamabad is one of the best facilities delivered here.
Bahria Enclave Islamabad
---
Bahria Enclave Islamabad has a world-class infrastructure. It is a renowned project in Islamabad Zone 4 that keeps on giving to its investors. Bahria Enclave Islamabad has been the most successful in the real estate sector of Islamabad. Moreover, it offers luxuries that are very hard to find nationwide.
Conclusion
---
Islamabad Zone 4 is the largest zone of Islamabad, providing ample space & opportunities for investors. The potential of this zone has not been fully realized yet. However, there are already successful projects here that you can benefit from. It is as modern and luxurious as Beverly Hills. If you are interested in exploring more projects in this zone, then contact Makaan Solutions to get professional assistance.
Islamabad Zone 4 is the Beverly Hills of the Capital
If you want to know Islamabad Zone 4 is the Beverly Hills of the Capital Contact Makaan Solutions. Our Sales Executive Officer will provide you with all the latest information. Starting from consultation to choosing the property, and from booking to owning your dream property. For further details, please do not hesitate to contact us with the below-given information: