Dubai Motor City is a fantastic development in the heart of Dubailand, including a business park and two residential areas. A beautiful theme park is also available to enhance the beauty of this elegant project. This project is located near Arabian Ranches to ensure a pleasant living experience for the residents.
There are Dubai Motor City apartments for sale in the medium and low-rise buildings of Up Town. Green Community in this project also consists of townhouses and villas. The different sizes of flats also enable people with different budgets to become a part of this magnificent project. Moreover, you can also rent commercial spaces to start your business in this Motor City Business Park.
Dubai Motor City Location
---
Location of Motor City in Dubai is near to the Arabian Ranches to ensure the easy access from the different landmarks of UAE. This high-demand project is easily accessible from Al Khail Road andf Emirates Road. Moreover, you can reach the different places of the city by traveling on ther Shiekh Zayed Road. Dubai Airport, Mall Of The Emirates, and Dubai Marina are at a drive of a few minutes.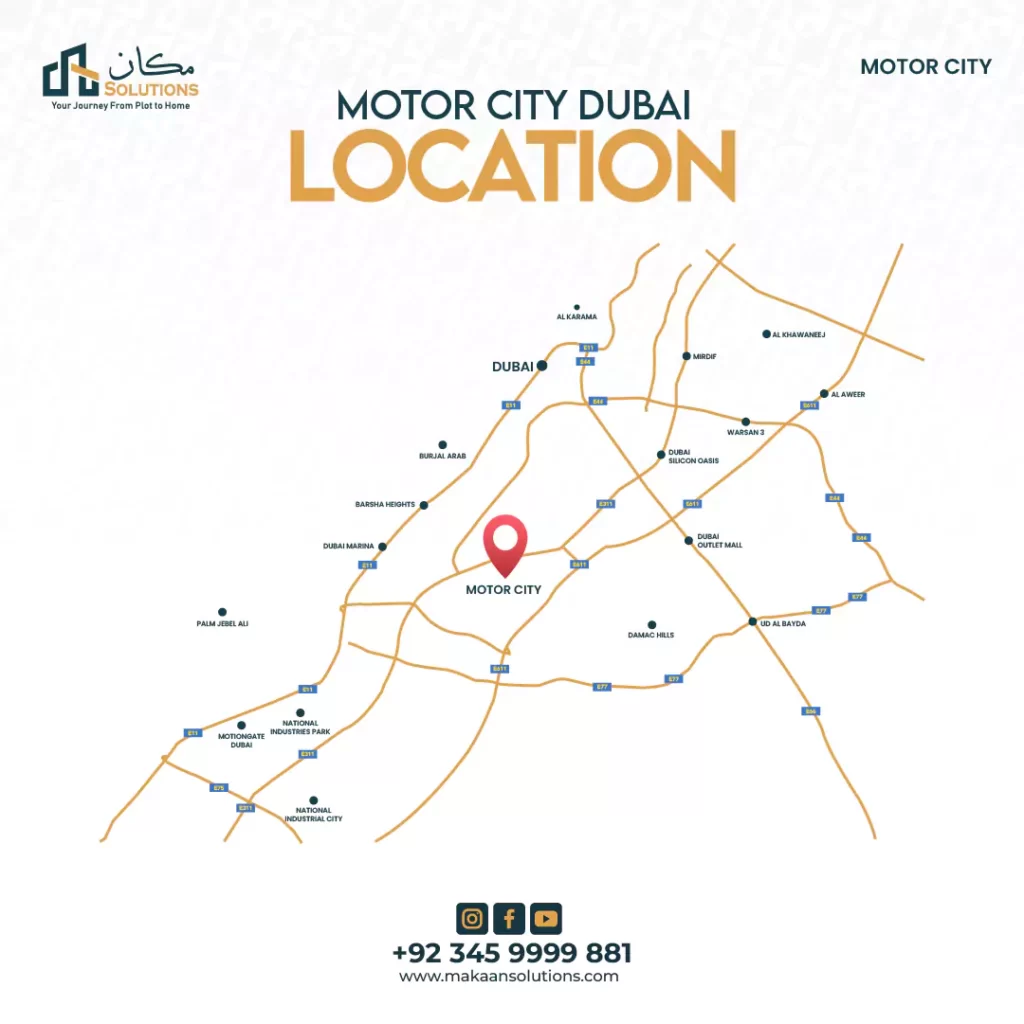 Attractive Project for Investors & Residents
---
The Spinneys supermarket has become the best commercial space in Dubai because of available banks, opticians, pharmacies, and retailers. Dubai Motor City hotels & restaurants to ensure fast food outlets for food lovers. First Avenue Mall contains 15 casual dining restaurants and 70 high street retailers in the outdoor-indoor boulevard. There is also a Park Inn hotel near this mall. The shared pools and gardens also bring the ultimate entertainment for residents. Moreover, GEMS Metropole School ensures excellent education standards for students from Foundation Stage to Year 13.
Motor City Sub-Communities
---
The developers have divided this elegant project into sub-communities to make sure that every resident enjoys the excellent facilities and amenities. These sub-communities are available in this residential project:
Casa Familia
Casa Flores
Dubai Autodrome Business Park
Green Community
Motor City Hills
Motor City Views
The Ribbon
Uptown
Facilities & Amenities
---
The name of this project reveals people have been attracted because of the available tracks for automobiles. You can drive motorbikes and cars to the Kartdrome and Dubai Autodrome. Alternatively, you can also walk or cycle one night a week around the circuit as well as the available gyms.
The calendar of motor racing has been phenomenal and always starts with a magnificent Hankook Dubai 24H consisting of the NGK Racing Series and UAE Sportbike Championship. There is a perfect cafe atmosphere to provide an excellent food experience. Let's explore The Selfie Kingdom with 15 pop-up rooms and professional lighting for an excellent selfie experience.
Best Destination for Car Enthausiasts
This project has become home to the different car-related activities ranging from car showrooms to the car racing events. Therefore, you can get your favorite car a good rate becuase an easy purchasing process with available customization options for cars.
Dubai Autodrome
Motor City Dubai Autodrome is the ulitmate hub of world-class car racing events. The racing track has been developed exceptionally with all features to ensure the best adventure experience for car racers. There is the ultimate safety and etiquette for the thrill of driving.
Dining and Entertainment
There are different options for entertainment and dinning in this phenomenal project of Dubai. You can enjoy your favorite meal with the full entertainment. Moreover, Motor City Nightlife is the best place to have fun to get rid of stress.
Clinics & Pharmacies
Healthcare is the essential facility in this magnificent project, and developers are committed to ensuring a healthy lifestyle for residents. There are more than 21 pharmacies and clinics in this prominent real estate project. The availability of 2 eyewear & optician shops, 7 medical clinics, and 12 pharmacies helps you maintain your health standards.
Gyms & Fitness Studios
It is crucial to balance your physical and mental health to live a productive life in Dubai. Therefore the international-level fitness studios and gyms, along with a yoga studio, allow you to remain fit and active.
Supermarkets & Mini Marts
The shopping experience will be phenomenal for the customers because of the mini marts and supermarkets. There is a mini-mart, two butchers, two food shops, two sweet shops, and five supermarkets.
Restaurants & Bars
There are several best bars and restaurants in this exceptional residential project in the heart of Dubai. You have access to 1 ice cream shop, 9 coffee shops, and 57 restaurants. Let's enjoy the drinking and eating experience.
Salons & Spas
You can easily enhance your beauty by utilizing the services of available salons and spas. There is 1 massage center, 1 training salon, 8 men's salons, and 12 ladies' salons.
Services
There is 1 pet shop, 1 print shop, 1 hardware shop, 2 mechanics shops, and 2 laundrettes shops to facilitate the customers with the magnificent services.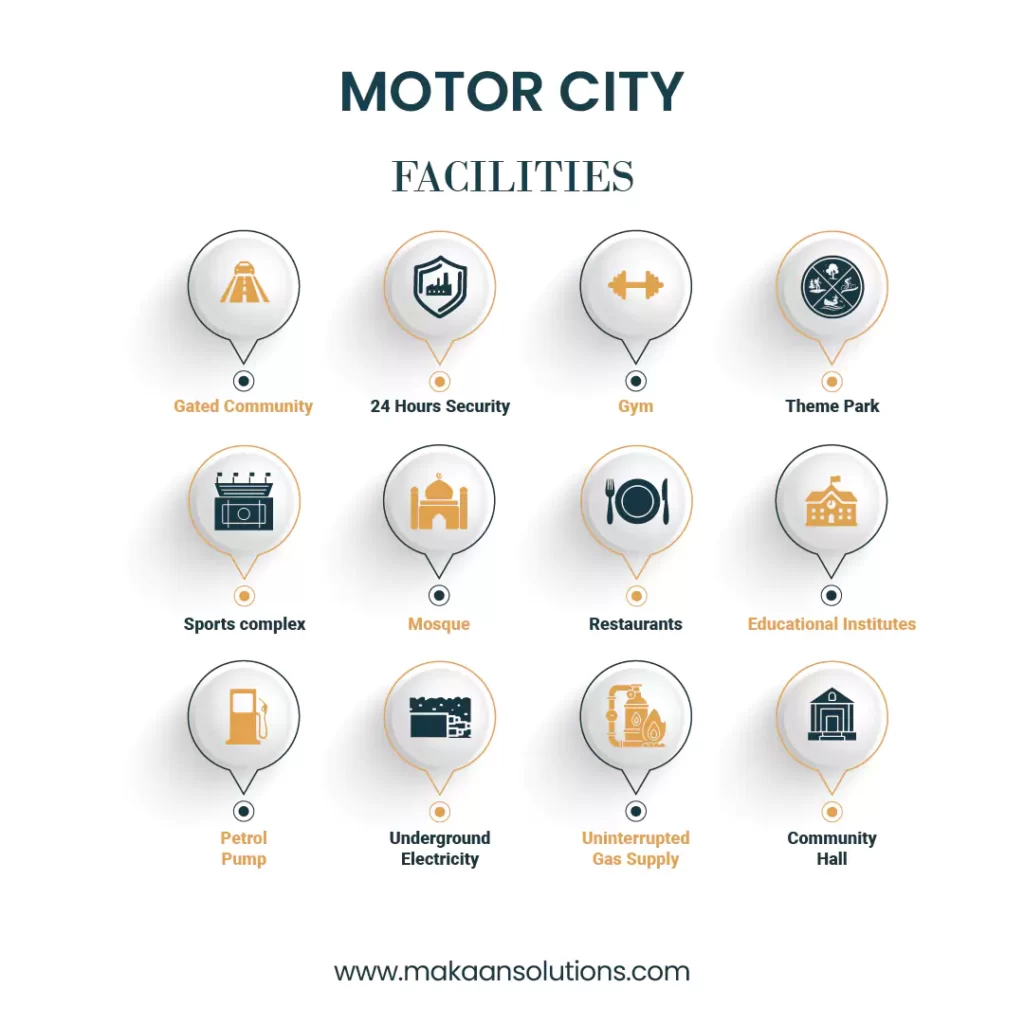 Final Thoughts
---
Dubai Motor City has become a famous place to live and enjoy your life as UAE is a second home for everyone who is moving towards Dubai to make a bright future. You can experience a calm lifestyle in this top community of Dubai. You can reserve your property with the help of Makaan Solutions. We also assist our customers in the purchasing process of their properties in Lahore Smart City, Dubai Damac Hills, and 7 Wonders City Islamabad.
Dubai Motor City
If you want to know about Dubai Motor City Contact Makaan Solutions. Our Sales Executive Officer will provide you with all the latest information. Starting from consultation to choosing the property, and from booking to owning your dream property. For further details, please do not hesitate to contact us with the below-given information: