DHA Gujranwala has become another iconic project by the one and only Defence Housing Authority (DHA). It is the best housing society in Gujranwala because of its luxurious and quality living standards in a secure environment. 
DHA in Gujranwala is a top-notch housing society because of its modern infrastructure and advanced facilities. The developers are going to offer the best lifestyle by keeping DHA Gujranwala prices very reasonable for the middle-class community. Moreover, this society is going to set new living standards on the premises of Gujranwala.
DHA Gujranwala map shows that the residential project is situated near Rahwali Cantt to ensure fast access from the various landmarks. The premium location of this famous housing project ensures that every resident enjoys a peaceful lifestyle. Moreover, the developers have separated the society into different phases to offer commercial and residential plots.
DHA Gujranwala Location: Main GT Road
---
Location of DHA Gujranwala is on the main GT Road to enable you to access the society from the various routes of the corresponding city. Moreover, this amazing location ensures that you can reach society easily from the various cities of the country. Defence Housing Authority Gujranwala is located near Suvay Wala Road for flexible accessibility.
DHA in Gujranwala is located near Chenab Gate to enable you to reach the society from Cantt within a few minutes. Moreover, College Road and Khajoor Wali Road ensure easy accessibility to the residents.
Nearby Places
This phenomenal housing society is surrounded by the following famous landmarks:
Askari Homes
Khushi Town
Life Care Hospital
Kashmir Colony
Christian Colony
Rahwali
Bhagat Garah
Sabri Town
Golf Course Cantt
Access Points
This famous housing society in Gujranwala can be accessed at the estimated time:
1 minute away from Gil Road
2 minutes away from Suvay Road
2 minutes away from Peer Kot Road
3 minutes away from Bangla Road
3 minutes away from Gakhar Road
4 minutes away from Police Station Road
4 minutes away from Railway Road
13 minutes away from Sialkot Road
15 minutes away from Pasrur Road
40 minutes away from M-11 Motorway
DHA Gujranwala Map 
You can view Defence Housing Scheme Gujranwala on Google Maps.

DHA Gujranwala Payment Plan 
---
Payment plan of DHA Gujranwala is kept low and very affordable to enable you to purchase a property. You need to pay 10% to 20% as a down payment to reserve apartments, commercial plots, residential plots, and villas. There are DHA Gujranwala plots for sale to enable you to become the owner of your valuable property.
DHA Society Gujranwala plot prices make sure that middle-class people can also buy their plots in this society within their limited budget. The installment plan is a fantastic source of allowing you to reserve a plot by paying the economical installments.
Graphics for residential & commercial plots, villas, apartments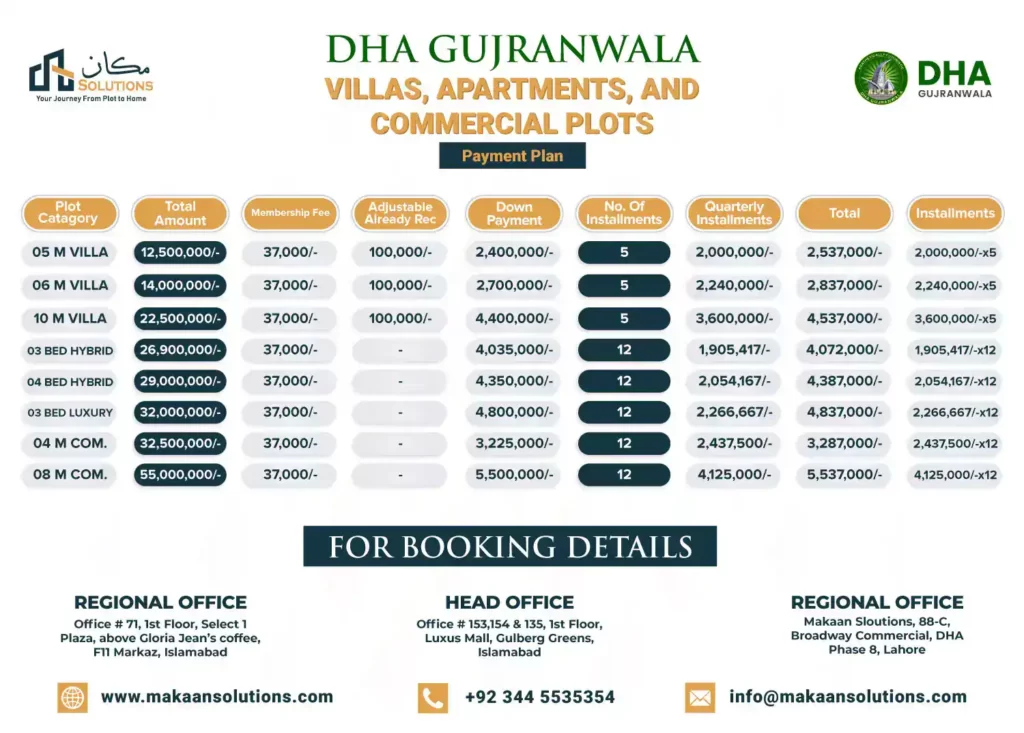 How to Book a Plot in DHA Gujranwala?
---
Defence Housing Scheme Gujranwala booking procedure is smooth to allow potential customers to book their plots easily. The booking process is necessary for a plot reservation in this housing society. Moreover, Makaan Solutions helps willing people to book their properties in this top-notch society in Gujranwala. We have mentioned step-by-step booking guidance for you:
Download DHA Gujranwala Application Form
Add the required information in the form
Attach the necessary documents
Make the down payment
Submit the form to confirm your plot
Required Documents
The required documents for booking a plot are listed down:
Two copies of the applicant's CNIC
Two passport-size pictures of the applicant
Two copies of Next to Kin's CNIC
NICOP for overseas Pakistanis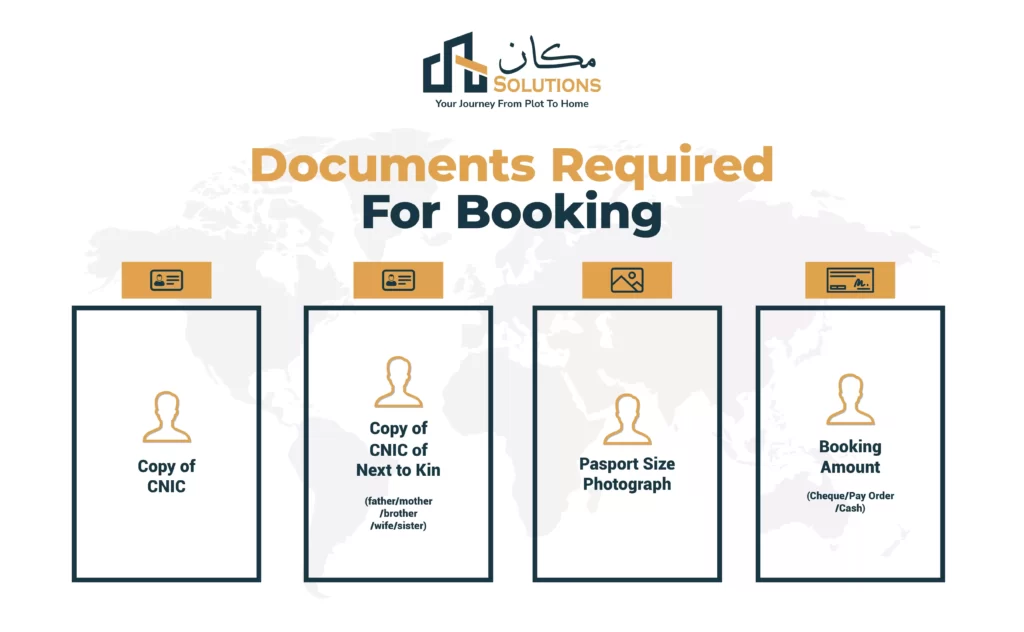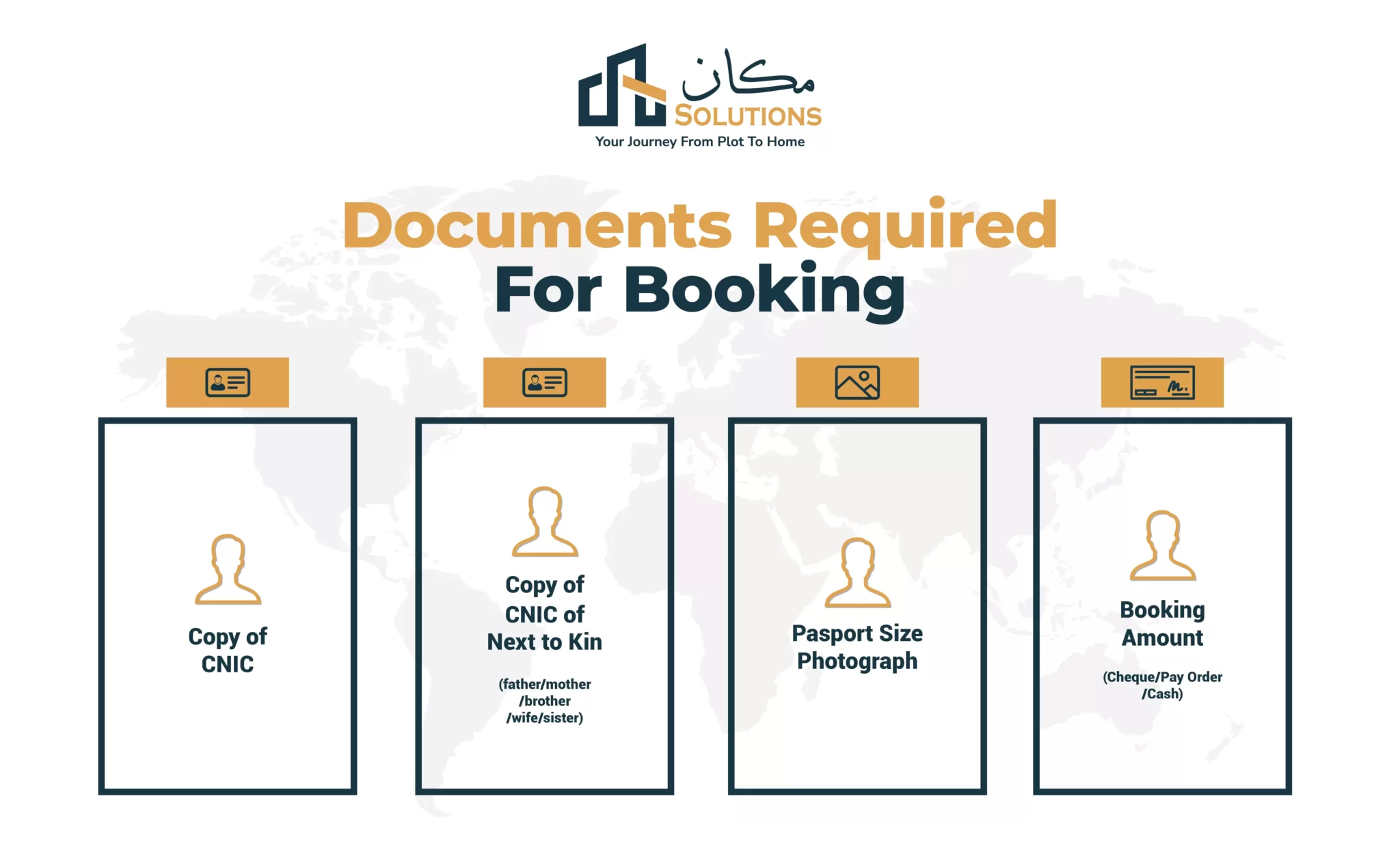 Benefits of Investment in DHA Gujranwala
---
There are several reasons to invest in DHA Gujranwala that urge you to take the maximum benefits. This housing scheme in Gujranwala has become a source of high profitability because of its prime location and affordable payment plan.
High ROI
Every investment is always made to get a massive return on investment. Therefore, potential investors are investing in DHA Gujranwala because of its high ROI. You can also make an investment in this residential project for high profitability.
Potential Growth
DHA is going to become the largest housing society in Gujranwala, which ensures potential growth for properties. The value of properties will increase with fast development over time.
Passive Income
The investment in Defence Housing Authority Gujranwala also becomes a source of passive income for potential investors. You have an opportunity to earn steadily by making an investment in this residential project.
Modern Facilities & Amenities 
The world-class amenities & facilities also encourage potential investors to make the investment for a high ROI. The availability of facilities ensures the maximum profit for you because of providing everything within society.
DHA Gujranwala Master Plan
---
Master plan of DHA Gujranwala is excellently designed by experienced designers who are known for the best town planning with modern infrastructure. DHA Housing Scheme Gujranwala consists of phases to include commercial and residential properties.
Layout plan of DHA Housing Society Gujranwala includes all necessary amenities to bring comfort to the residents' lives. The layout plan also shows that society has wide streets and roads to ensure smooth traffic flow. The apartments and villas are also a part of the master plan for Defence Housing Society Gujranwala.
DHA Gujranwala Phases
---
DHA Gujranwala phases are listed below:
DHA Gujranwala Sectors
---
DHA Gujranwala sectors are mentioned below:
Sector A
Sector B
Sector C
Sector D
Sector E
Sector G
Sector J
Sector K
Sector L
Sector M
Future Sector 1
Future Sector 2
Commercial Zone 1
Commercial Zone 2 (North & South)
Commercial Zone 3
Residential Plots
There are residential plots for sale in DHA Gujranwala:
5 Marla
8 Marla
10 Marla
1 Kanal
2 Kanal
DHA Gujranwala Commercial Plots
There are commercial plots for sale in DHA Gujranwala:
4 Marla
8 Marla
10 Marla
1 Kanal
Apartments
There are apartments for sale in DHA Gujranwala:
1-Bedroom Apartment
2-Bedroom Apartment
3-Bedroom Apartment
Villas
There are villas for sale in DHA Gujranwala:
Mansions
These mansions are part of society: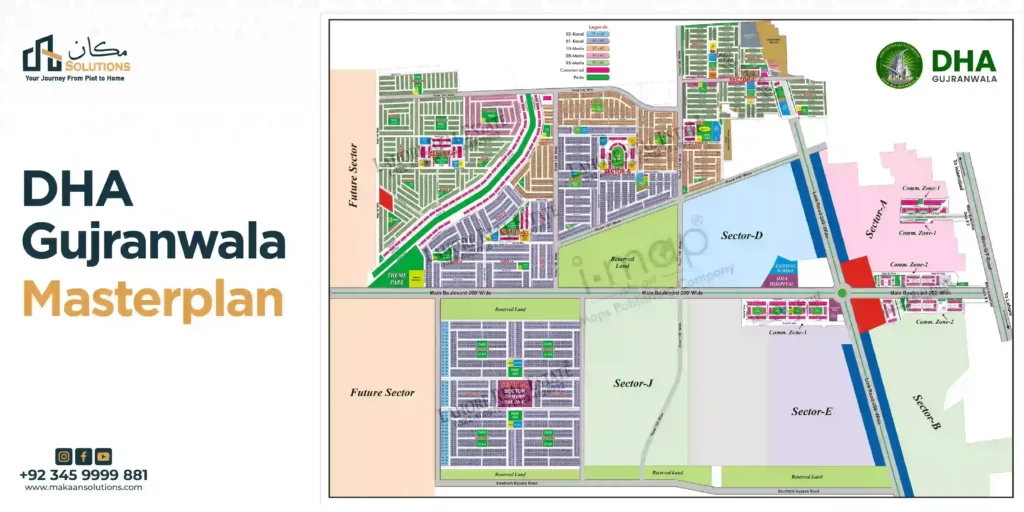 DHA Gujranwala NOC Status 
---
NOC of DHA Gujranwala is approved by the Defence Housing Authority. The developers are following the high standards of development after the legal status of DHA in Gujranwala. This No Objection Certificate ensures that society is legal for the investment. The potential investors have already started the investment in this society. Local and overseas Pakistanis can also buy their properties in this legally-approved society.
DHA Gujranwala Owner & Developers
---
Owners of DHA Gujranwala are the DHA that is working under the supervision of the Pakistan Army. They have started their residential projects across the country to ensure top-notch living standards for Pakistanis.
Developers of DHA Gujranwala are NESPAK, which is responsible for constructing this housing society according to international standards. National Engineering Services Pakistan is known for the utilization of the most advanced infrastructure for world-class development.
Projects by DHA:
The other projects are mentioned below:
DHA Islamabad
DHA Karachi
DHA Lahore
DHA Bahawalpur
DHA Multan
DHA Quetta
DHA Peshawar
Projects by NESPAK:
NESPAK is the developer of the following projects:
Arfa Karim Technology Park
Telecom Tower Islamabad
Greater Iqbal Park Lahore
Prime Minister House Islamabad
World Trade Center Islamabad
Nandipur Power Plant
Al Arabi Sports Club Qatar
Jeddah Power Plan Saudi Arabia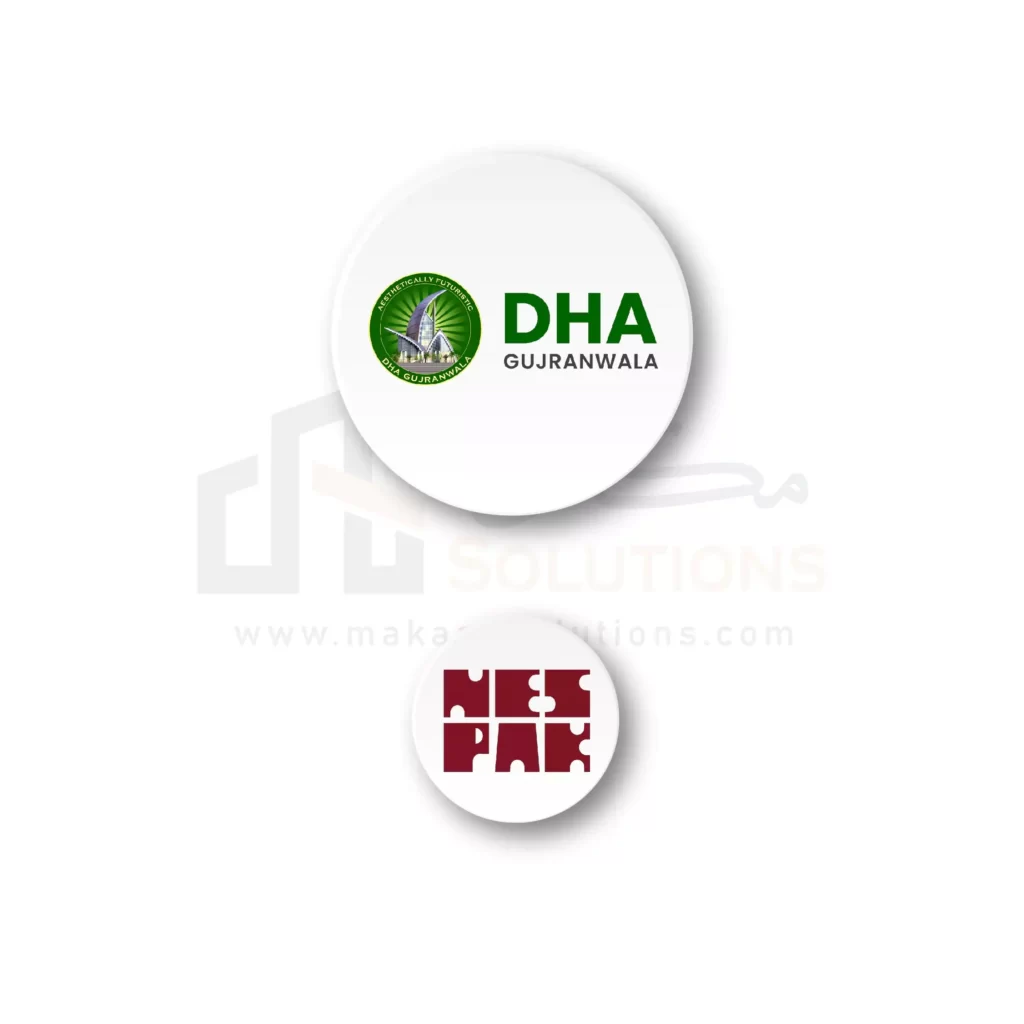 DHA Gujranwala Development Status
---
The developers are committed to fast and quality development work in DHA Gujranwala. They are maintaining top-notch standards of development in the first two phases of society. The development is going to offer three entrance points for flexible access to the residents.
Add pictures of current development
DHA Gujranwala Latest News
---
Latest updates of DHA Gujranwala show that the society recently arranged a family festival. Cultural performances, a musical concert, and a magic show were the main parts of this festival at Defence Housing Society Gujranwala.
In February 2023, the society signed an MOU with the Roots Millennium School. Moreover, the society announced a discount on development charges for the first 50 members.
DHA Gujranwala Transfer Procedure
---
There are three kinds of transfer processes in the Defence Housing Scheme in Gujranwala.
Normal Transfer 
The required documents for Defence Housing Scheme Gujranwala normal transfer can be seen below:
Add graphics of documents
Hiba Transfer 
Defence Society Gujranwala Hiba transfer can be done by the following documents:
Add graphics of documents
Legal Heirs Transfer  
The essential documents for the Defence Housing Society Gujranwala Legal Heirs transfer are mentioned below:
Add graphics of documents
DHA Gujranwala Balloting Results
---
The society conducted balloting in 2019 to allocate the plot numbers to the respective customers. Moreover, a balloting was held in 2021 to provide the plot numbers to the members who reserved their properties. The management also conducted the balloting process in 2022 to facilitate the members who cleared their dues. You can check the balloting results on the official website.
DHA Gujranwala Possession Updates
---
The society provided the possession of Commercial Zone 1 on 02 February 2023. Moreover, the management will hand over the possession to the members with the passage of time.
Facilities & Amenities
---
DHA is a top-notch housing brand in Pakistan that has become popular globally because of offering world-class facilities and amenities to the customers. The provision of these facilities ensures that members enjoy a marvelous lifestyle.
Basic Utilities:
This society provides all the basic utilities to its residents, such as underground electricity, water, and gas. Also, they are providing underground drainage and sewerage systems to avoid any kind of pollution.
Fresh water and gas are available 24/7. There is no shortage of water and gas in this housing society. Water filtration plants are installed at different spots in this housing society.
Electricity Backup:
This housing scheme is planning to install an electricity backup soon to deal with the load-shedding problems.
Educational Institutes:
This housing society also intends to build different types of educational institutes in a housing society so that residents of the society don't have to go outside the society for school or college.
Hospitals & Clinics:
Apart from the educational institutes, society also provides health facilities to its residents to deal with any kind of health issue or emergency.
Eco-friendly Environment:
The main purpose of society is to give a luxurious lifestyle to its residents. Besides educational and health facilities, it is also providing an eco-friendly environment to its residents so they can live their life peacefully in this housing society.
There are several parks, playgrounds, nurseries, gardens, and walking tracks located in different parts of this renowned housing society.
Mosques:
Several mosques are built inside the society in different blocks so residents of the society can easily reach out to the mosque to offer prayers.
Security:
This housing society is well-secured for the residents. The security team keeps patrolling inside and outside the society to keep an eye on the activities so that they can save their residents from any kind of harm.
Also, CCTV cameras are installed in all the major points of society and a security team keeps a close eye on the activities through CCTV cameras as well.
A walk-through gate is installed at the entrance of the society to make sure that only authorized persons can go inside the society. A team of security guards sits at the entrance of the society to increase security.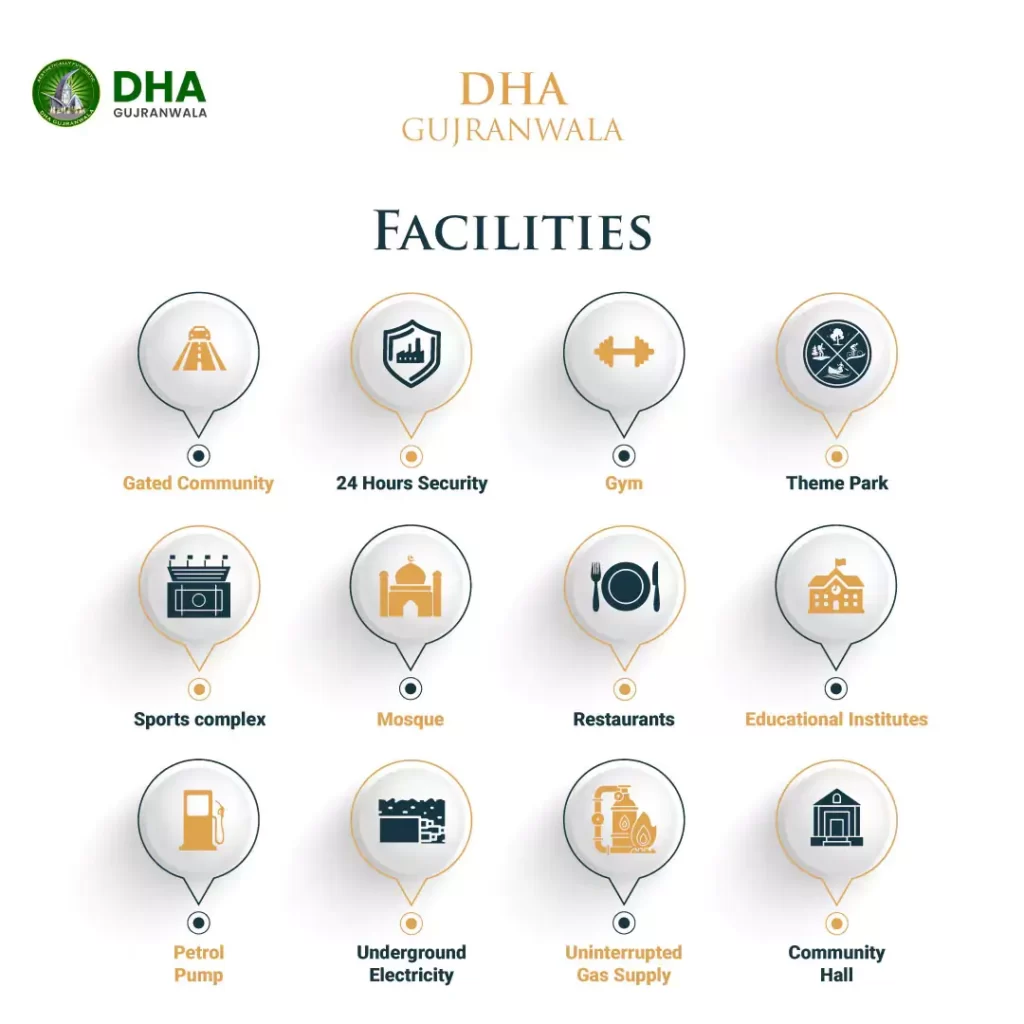 Pros & Cons
---
The pros and cons are listed below:
Pros:
Reliable developers and owners
Premium location
Excellent master plan
Eco-friendly environment
Ample facilities
Shopping areas
Excellent security system
Cons:
Conclusion 
---
DHA Gujranwala is a world-class housing project with reliable owners and developers who have already delivered several successful projects. The premium location of this top-notch residential project ensures the best profitability for investors. The residents will be able to enjoy splendid living standards. Makaan Solutions is ready to serve you with smooth booking services. You can contact our team to book your plot. Moreover, we also provide real estate services for Graceland Housing Society and Rose Valley Rawalpindi.
Faqs about DHA Gujranwala
---
Which is better, DHA Gujranwala or DHA Multan?
Both are the best option for investment and residency purposes.
What is the price of DHA in Gujranwala?
The plot prices in Defence Housing Authority vary from plot to plot category.
How can I buy a plot in DHA Gujranwala?
You can buy a plot for this project by contacting Makaan Solutions.
How many phases are there in Defence Society Gujranwala?
There are 2 phases in Defence Housing Authority Gujranwala.
Is DHA Gujranwala good for investment?
Yes, It is a good option for investment that attracts both overseas and local investors.
Where is Defence Housing Authority Gujranwala head office?
The head office of DHA in Gujranwala is located near Chenab Gate on GT Road.
Where is DHA Gujranwala located?
Defence Housing Authority is located on the main GT Road in Gujranwala.
When is the Defence Housing Scheme Gujranwala balloting?
The society already conducted balloting. Moreover, the next ballot will be announced soon by the management.
When is the DHA Gujranwala launch date?
DHA in Gujranwala was launched in 2014.
How to check the DHA Society Gujranwala balloting result?
You can check the balloting results by visiting the official website.
What is DHA Gujranwala 5 marla rate today?
5 marla rate in Defence Housing Society Gujranwala is around 5,000,000.
What is DHA Gujranwala 10 marla file rate today?
10 marla rate in Defence Society Gujranwala is around 9,000,000.
DHA Gujranwala: A Futuristic Housing Society
If you want to know about DHA Gujranwala: A Futuristic Housing Society Contact Makaan Solutions. Our Sales Executive Officer will provide you with all the latest information. Starting from consultation to choosing the property, and from booking to owning your dream property. For further details, please do not hesitate to contact us with the below-given information: