The Citi Housing Kharian is a housing project in Kharian that aims to Promote the Gold Living Standards in Pakistan has lately introduced the 3 Marla residential plots. As society has already provided an opportunity to their investors to invest from 5 Marla to 2 Kanal of residential plots. The management launched 3 Marla plots in Citi Housing Kharian to allow the investors with a small amount of capital or small monthly income to invest in this society and live their dream living.
The location of the society on Main GT Road Sarai Alamgir is not only the factor that more people are interested to invest in this but the well-known developers of the Real Estate Market Citi Housing Pvt. Ltd and approved by Tehsil Municipal Administration TMA Kharian.
The owners and developers have a number of successful housing projects in different regions in Pakistan, they know the buying power of individuals and offer them the opulent living opportunity within the sophisticated budgeting plan and modest payment plans.
Following are the different housing projects of Citi Housing PVT. Ltd:
Citi Housing Sialkot
Citi Housing Multan
Citi Housing Jhelum
Citi Housing Gujranwala
However, we are going to share with you the details of 3 Marla plots in Citi Housing Kharian, the Payment Plan and the factors why you should invest in this housing project.
Citi Housing Kharian 3 Marla Residential Plot
---
It is true that the Citi Housing Kharian recently launched 3 Marla plots, the management of society shared it on its official website. As these 3 Marla plots in Citi Housing Kharian were a dream of many, to live in even a small space and build their home in the ideal location of Citi Housing Kharian.
Like other residential plots in this housing project this category of plots also has an affordable payment schedule. For guidance and assistance, you could contact Makaan Solutions. The firm will better guide you in your investment in this remarkably master-planned housing project.
3 Marla Residential Plots Payment Plan
---
The information shared by officials and management on the payment plan of 3 Marla Plot in Citi Housing Kharian seems very reasonable. The total price of the 3 Marla plot is 1,350,000. You would not believe that you could book this plot for only PKR 300,000. The monthly instalments of 3 Marla plots are 29,166 only.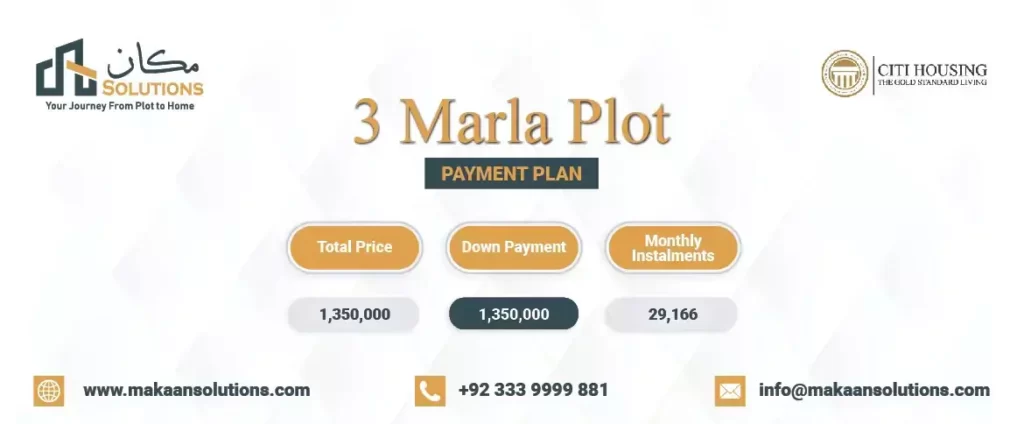 Why you should invest in Citi Housing Kharian
---
There are countless factors and reasons that one should in this housing project. A good example of it is the recent announcement by the management of Citi Housing Kharian 3 Marla Plots. The most attractive and standard sizes of plots this housing society offers.
Most importantly the location of this society is on a road that connects a number of large cities in Pakistan. The Citi Housing Kharian promising to its residents a modern living standard. The opulent living, with a number of modern conveniences at an affordable cost is something that this society is worth investment.
Following are the facilities and amenities that will be provided to residents in Citi Housing Kharian:
Gated Community
24/7 availability of Gas, Water and electricity
Eco-Friendly Environment
Education institution
Large Mosque
Graveyard
Health Centers
With both indoor and outdoor facilities, a sports complex
A road Network inside society
12 lines main society's road
Green Parks and avenues
How to Book a plot in Citi Housing Kharian?
---
The booking process in this housing project is quite simple and easy, all you need to know about the documents required for your booking. For booking your plot even if it is about to book a newly launched 3 Marla Plot in Citi Housing Kharian Contact the leading real estate firm Makaan Solutions.
which is the platinum sale partner of Citi Housing Kharian. The firm will defiantly guide you perfectly in your booking and buying process. Following are the documents that will be required at the time of booking:
Fresh two passport-size photos of the candidate.
For the overseas investors, they should need to provide us with the NICOP.
Two copies of the National Identity Card of the applicant
For reference, we will need two copies of your close relative's NIC
Conclusion
---
The launching of Citi Housing Kharian 3 Marla plots is really appreciated by their clients and investors. This step of the owner and developers will lead the society to increase its value among all types of investors in Pakistan.
We have shared the payment plan of 3 Marla Residential plots which is issued by the management on the society's official website, as the pre-launched payment plan for residential plots from 3 Marla to 2 Kanal issued by the management will share.
Citi Housing Kharian Launched 3 Marla Residential Plots
If you want to know about Citi Housing Kharian Launched 3 Marla Residential Plots, contact Makaan Solutions. Our Sales Executive Officer will provide you with all the latest information. Starting from consultation to choosing the property, and from booking to owning your dream property. For further details, please do not hesitate to contact on the below-given information: