Capital Smart City discount policy has been announced by the management, which is applicable from 21st August to 16th September 2023. FDHL and HRL always bring magnificent policies to facilitate the customers with different benefits like discounts.
The magnificent support of experienced management is considered a social responsibility. They are not only setting standards for completing the housing projects before the timeline but also considering the current economic conditions.
Discount Applicable Date
---
The management of Future Development Holdings Limited announced the discount policy with a time frame of 21st August to 16th September for the potential customers to take the maximum perks.
The announcement of a discount policy with a timeline is a much-needed relief for customers in the current time of high inflation. This Capital Smart City concession policy is an advantage for esteemed members.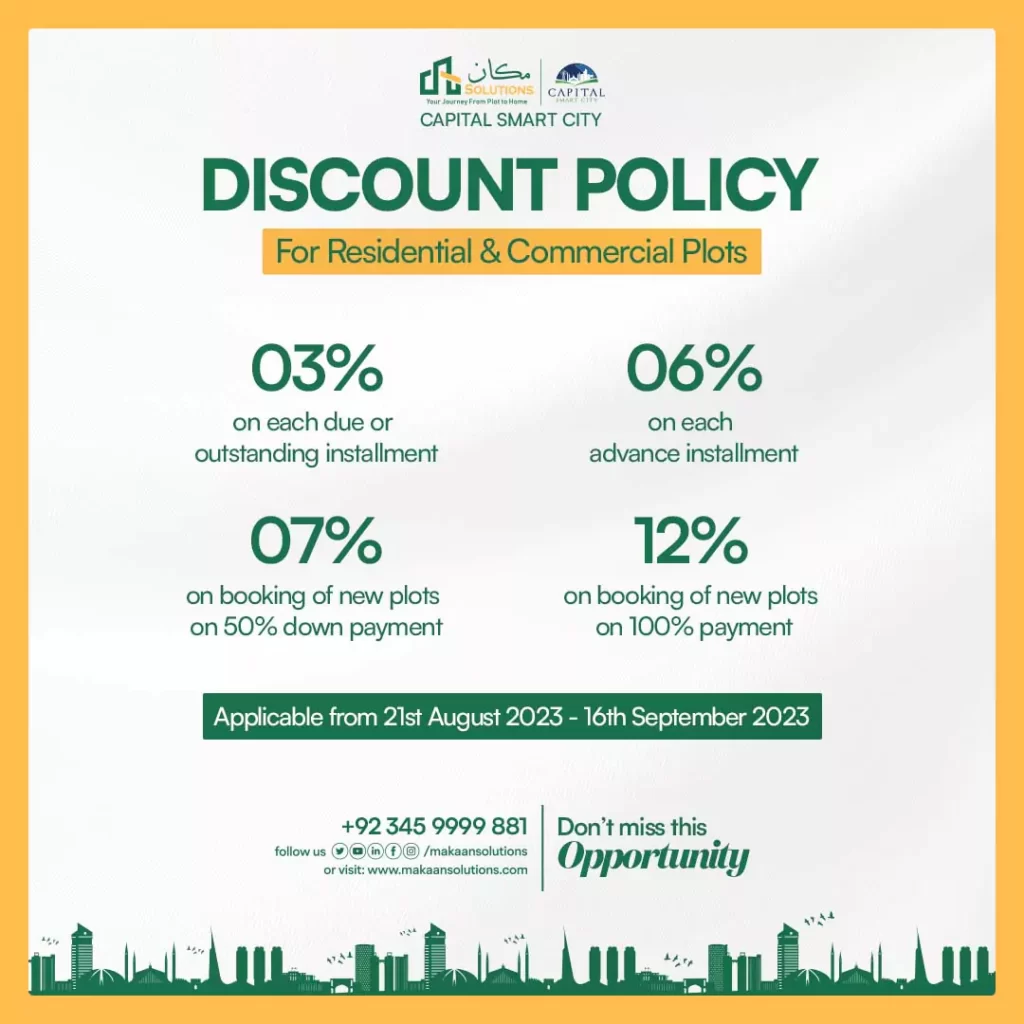 Discount on Outstanding Installment
---
There is a 3% discount on every outstanding or due installment of commercial and residential plots. Capital Smart City's discount policy for the outstanding installments of plot categories motivates the customers to make quick payments to enjoy a discount.
A due is payable to the management, which can be surcharged on the late payment. However, you can get a 3% rebate on paying your outstanding installment before 16th September 2023. Customers can contact Makaan Solutions for updates about discounts on due installments.
Discount on Advanced Installment Amount
---
The management of Capital Smart City offers a discount on the payment of pre-installment. You can get up to a 6% discount on making every advanced installment amount. Therefore, you can pay the installments in advance to get a handsome amount of discount.
The purpose of offering discounts on the advanced installments is to facilitate the customers in economic instability. Moreover, the Capital Smart City discount policy is more beneficial for the middle class, who are experiencing the real challenge of high inflation in the country.
Discount Limit for Installments
---
The members can get a discount of 6% on a maximum of 3 installments. Moreover, it is a significant saving even on only three installments. The limitation on installments is a way of maintaining financial stability.
You can make 3 installments once to get a prominent discount of six percent. Customers who own commercial and residential plots can make advance payments to enjoy the perks of this Capital Smart City Islamabad concession policy.
Discount on New Plot Booking
---
Capital Smart City discount policy is also valid for booking of new plots in society. The total discount on the new plot down payment is divided into two categories. The management offers a 7% discount on a 50% down payment of new plot booking in Capital Smart City.
You have the opportunity to get up to a 12% discount by making a 100% payment on a new plot booking before 16th September 2023. Therefore, you can book a plot with the help of Makaan Solutions to get a 12% concession on your booking.
Capital Smart City Discount Policy on Merging of Properties
---
The discount policy is not valid for the merging of properties in Capital Smart City. It means customers who had merged their properties in this housing project are not eligible for any concession in accordance with the new discount policy.
The different plots, which were owned by the different owners and merged later into a property, had not been included in the discount policy. Unfortunately, you will be facilitated with the discount if you own the merged properties.
Final Thoughts
---
Capital Smart City discount policy is a great initiative by the renowned management to offer the maximum concession to the customers. You can reserve a plot with the assistance of Makaan Solutions if you have not booked already. You can also invest in Lahore Smart City or Aiwa City Attock.
Capital Smart City Discount Policy
If you want to know about What is Property DC Valuation?, contact Makaan Solutions. Our Sales Executive Officer will provide you with all the latest information. Starting from consultation to choosing the property, and from booking to owning your dream property. For further details, please do not hesitate to contact on the below-given information: