Bahria Town Karachi Phase 2 is the latest project by the Bahria Town management. The purpose of starting this new project is to facilitate the customers with more opportunities for investment. Moreover, this new phase of Bahria Karachi also benefits the customers who're impatiently waiting to build their beautiful homes in this world-class housing scheme in Karachi.
Bahria Town is all set to build a new community by introducing Bahria Town Phase 2 in Karachi. The developers are aimed to facilitate the customers with magnificent standards of development. People have already shown a magnificent interest in this project because of the developers' reliability.
Where is Bahria Town Karachi Phase 2 located?
---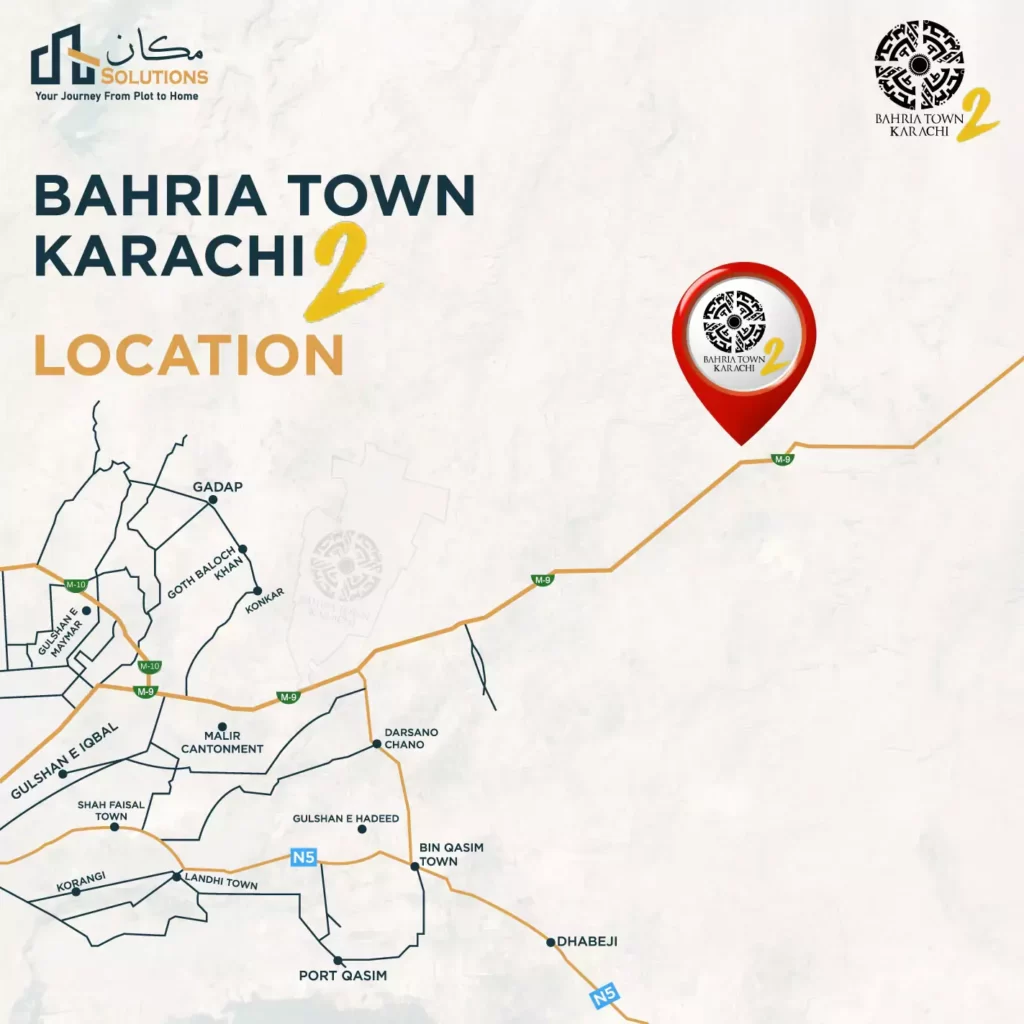 The location of Bahria Town Phase II is on the Hyderabad-Karachi Motorway near Superhighway. It is crucial to note these experienced developers always choose the premium location for their projects across the country. Therefore, the Bahria Town Karachi Phase II location ensures a peaceful environment for business and residency.
The location also makes sure that you can easily access this Bahria Town 2nd Phase in Karachi. The locality of this Phase II by Bahria Town enables the residents and investors with excellent reachability. Moreover, property value in Bahria Town Karachi Phase 2.
What are Plot Rates in Bahria Town Karachi Phase 2?
---
The payment schedule is a fundamental factor to know for those who want to purchase their plots in this upcoming phase of Bahria Town. Therefore, the management of society keeps this factor in mind to facilitate customers with different financial backgrounds.
The payment plan for Bahria Town Phase II is very reasonable to attract potential real estate customers. It also enables the middle-class community to buy a plot in Bahria Town KHI Phase 2.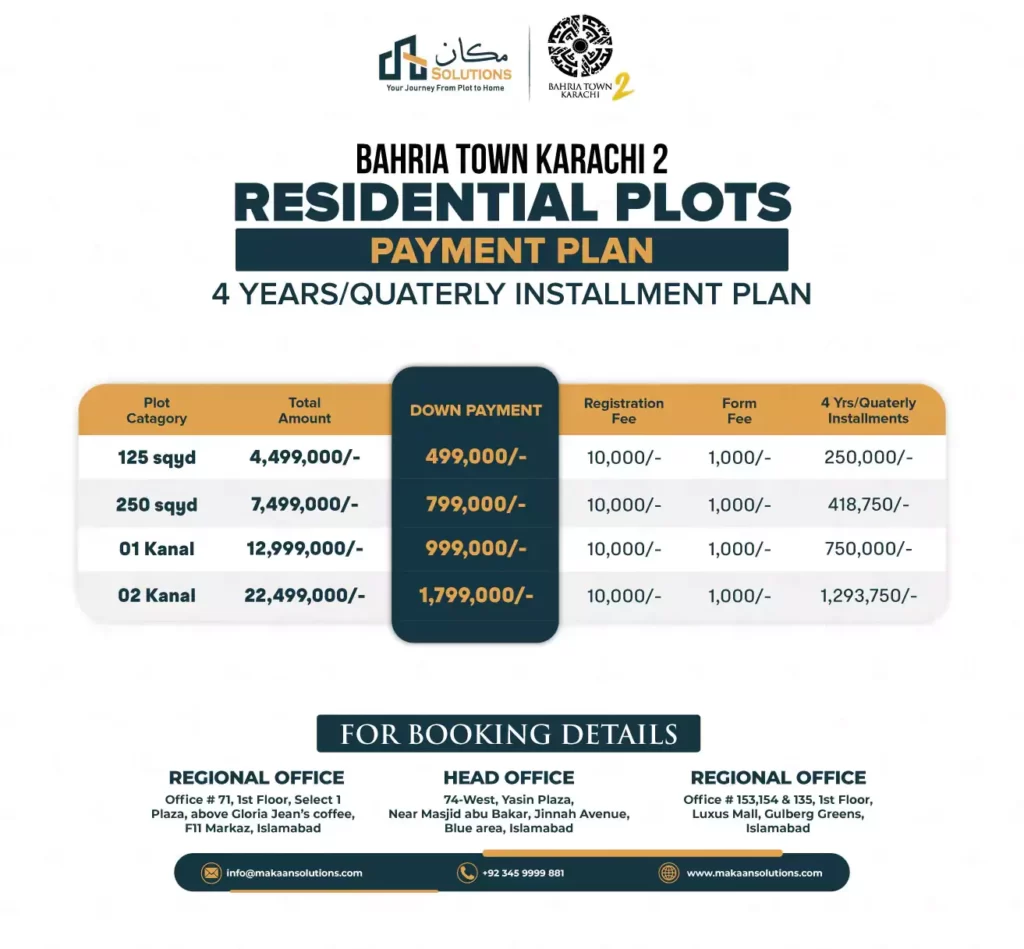 What is the Bahria Town Phase 2 Karachi Development Status?
---
The developers have completed forty percent of the development work according to the current development status of Bahria Town Phase II. A grand gatehouse, hospital, school, and mosque are under construction. It's a good step by the management to complete the maximum development before launching Bahria Town Phase 2 in Karachi.
The management introduced Bahria Town Karachi 2 after the success of Bahria Town in Quaid's city. Moreover, developers have already facilitated the thousands of people in Karachi with modern technology due to the fast development strategies. It's time for you to uplift your lifestyle in Bahria Town Karachi II.
What are the reasons to invest in Bahria Town 2 Karachi?
---
Bahria Town has a legacy of bringing world-class facilities for the residents through innovative and excellent infrastructure. There are a lot of reasons that urge everyone to invest in Bahria Town Phase II.
You are going to experience a world-class lifestyle in the advanced and best housing society. Moreover, a renowned team of masterminds is directed to utilize modern development strategies to develop a new community in the city that is known as the backbone of Pakistan.
BTK 2 includes modern infrastructure to ensure the elegant construction of homes, apartments, and business buildings. The investment in Bahria Town Phase 2 Karachi also brings up the facilities, including healthcare, education, entertainment, and Golf courses.
Allama Iqbal Avenue is a replica of Jinnah Avenue to facilitate investors and residents with the best business opportunities. The developers have introduced an innovative and technological framework to facilitate the residents digitally. Moreover, the world-class water drainage system and roads also urge potential investors to get fruitful results from investment.
How does Bahria Town Phase 2 Karachi become a famous real estate project in Pakistan?
---
Bahria Town Phase II has become a famous project across the country because of the fastest development in the history of the Pakistan real estate industry. This project is popular among the people because of the
The management is doing everything to offer a world-class lifestyle to the residents. Bahria Town is a renowned development company that is known for delivering projects within the given timeline. This project has brought profitable investment opportunities that are the primary interest of several investors.
When will Bahria Town Karachi 2 be launched?
---
The management planned to launch Bahria Town Karachi Phase 2 in the first quarter of 2023. It is expected that Phase 2 will be officially launched on 5th January. Every person is waiting for the official launch of this housing society. You can also get the details about the launching of Bahria Karachi Phase 2 by contacting Makaan Solutions.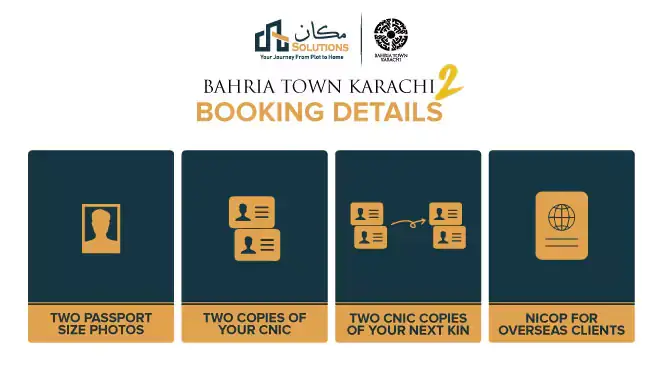 Final Words:
---
Bahria Town Phase 2 is going to become a hub for commercial and residential purposes in Karachi. Moreover, management aims to ensure reasonable prices for plots to enable the people to own their properties in this world-class project. Makaan Solutions helps customers in the smooth booking process of different residential projects such as Capital Smart City, Multi Gardens Phase 2, and Lahore Smart City.
Bahria Town Karachi Phase 2 Payment Plan And Booking Forms
If you want to know about Bahria Town Karachi Phase 2 Contact Makaan Solutions. Our Sales Executive Officer will provide you with all the latest information. Starting from consultation to choosing the property, and from booking to owning your dream property. For further details, please do not hesitate to contact us with the below-given information: